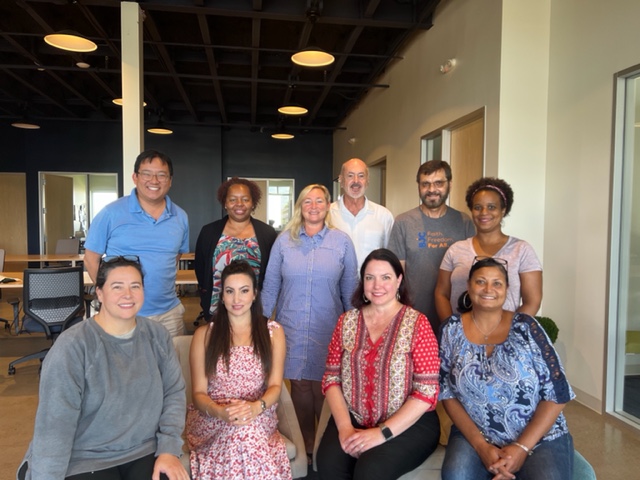 ---
Dr. Kimberly Harrison, President. Kimberly is a forensic psychologist in private practice in Austin, Texas. She received her Bachelor's degree in Psychology from Texas A&M University and her Master's degree and doctorate in Clinical Psychology from the University of North Texas. After completing her postdoctoral fellowship in forensic clinical psychology at State Operated Forensic Services in Minnesota, she worked as Chief Psychologist at the Forensic Evaluation Service of the South Carolina Department of Mental Health in Columbia, South Carolina. During her time in South Carolina, she also served as an Assistant Professor of Neuropsychiatry and Behavioral Science at the University of South Carolina School of Medicine. Since moving to Austin in 2014, her professional practice has focused on forensic evaluations of individuals involved in criminal and civil courts. She has co-authored over a dozen peer-reviewed articles pertaining to mental health issues in the criminal justice system. Kim joined the TCADP Board of Directors in May 2017. She served on both the 2017 and 2019 Annual Conference Committees and chairs the Board Development Committee.

"After years of working in the criminal courts and witnessing the injustices endemic to that system, I was motivated to join the TCADP Board of Directors to help fight its ultimate travesty: the death penalty."
---
Amanda Hernandez, Vice President. Amanda is a criminal defense attorney licensed to practice in Texas as well as federally in the Southern and Western Districts of Texas. She serves as a board member for the San Antonio Criminal Defense Lawyers Association. Amanda practices criminal defense because she feels it is the best way to help people in her community and is grateful for the opportunity to help people through a tough time.
Amanda earned her degree from the University of Texas at San Antonio in 2011 and went on to attend St. Mary's University School of Law, graduating in May of 2016. During her time at St. Mary's, she was accepted onto the Mock Trial Team where she learned the basics of what it means to be a trial lawyer. She also clerked for the criminal defense firm Goldstein, Goldstein & Hilley, where she was taught how to effectively prepare a case. When she graduated in 2016 and Donald H. Flanary, III., started the Flanary Law Firm, PLLC, he quickly promoted her from being his long-time law clerk to the first associate attorney in his practice, where she remains today. Amanda served on the TCADP 2019 Annual Conference Committee and joined the Board of Directors in May 2019.
"I joined the TCADP Board because I'm committed to helping the organization achieve its mission. There are a lot of things wrong with our criminal justice system that seem impossible to fix, but putting an end to the death penalty is a goal that is attainable. It will be a great start to criminal justice reform in Texas."
---
Tammy Van Dunk, Treasurer. Tammy is a lead accountant specializing in insurance financial regulation at Tokio Marine HCC in Houston, Texas. She began her career in property and casualty insurance and has remained in the industry for over 31 years. Born and raised 30 miles from New York City in Colonia, New Jersey, she moved to Houston, Texas in 2012.
Tammy graduated from Essex County College in Newark, New Jersey, where she obtained an Associate of Science in Accounting. While in attendance, she was nominated and inducted into the Phi Theta Kappa Honor Society. Afterward, she earned her Bachelor of Science Degree in Accounting at Rutgers University in Newark, New Jersey. As a Rutgers scholar, Tammy held the position of Vice President of the student chapter of the Volunteer Income Tax Assistance (VITA), which provides free tax return preparation services to senior citizens and other indigent local families. Tammy is a member of the TCADP Lobby Corps and joined the TCADP Board in 2020.
---
Michael Wong, Secretary. Michael is a life-long Houstonian with a short stint in Waco,Texas to attend Baylor University. He graduated from Baylor University with a Bachelors in Business Administration in Management. Following graduation, Michael returned to Houston and worked in wireless sales before starting a career in insurance. He is licensed as a property and casualty insurance adjuster in Texas. After a few years as an insurance adjuster, Michael returned to school and graduated Summa Cum Laude from Texas Southern University Thurgood Marshall School of Law with a Juris Doctor. Currently he works at an insurance defense firm pending receipt of his law license.
Michael's interest in death penalty abolition piqued during his second year of law school when he worked as Professor Ana Otero's assistant. She invited him to attend his first TCADP Annual Conference in 2020 where he learned about the flaws of capital punishment and the shortcomings of the American criminal justice system. During his third year of law school, Michael wrote a paper in Professor Otero's Death Penalty Seminar where he discussed the disparity in representation the wealthy receive versus those represented by appointed attorneys in capital cases.
Michael and his wife have one son. He joined the TCADP Board of Directors in September of 2021. Michael currently serves on the Board Development Committee.
---
Angelle Marie Adams is a civil litigation attorney who currently resides in Northeast Texas. Angelle received her Juris Doctor from St. Mary's University, a Master of Education from the University of Houston, and a Bachelor of Science degree in Communication Sciences and Disorders from the University of Texas at Austin. She has been licensed to practice law in Texas since 2006 and obtained her California bar license in 2018. She is also admitted to practice in the Fifth Circuit Court of Appeals, Western District of Texas, Southern District of Texas, Northern District of Texas and Eastern District of Texas federal courts.
Angelle joined TCADP in 2008 after attending a presentation at the Texas Democratic State Convention given by the organization's founder, Dave Atwood. Soon thereafter, she started a chapter of the organization in The Woodlands and subsequently held several leadership roles with the organization, including Secretary and President of the Board of Directors. For the past eight years, Angelle has been penpals with an inmate on Texas Death Row and regularly travels to Polunsky Unit for visits. That interaction has strengthened her understanding of the Texas criminal justice system from the perspective of an incarcerated man of color.
In her free time, Angelle enjoys practicing yoga and working in her garden. She rejoined the Board in May 2021 and is the Chair of the Governance Committee.
---
Niki Bergin. Niki is a native Texan and 22-year resident of Dallas. She received a Bachelor's Degree in Medical Technology from Louisiana Tech University in 1996 and, save for a three-year stint in the investment banking field, has spent her entire career working in the Special Hematology Laboratory at Baylor Scott and White Health (formerly Baylor University Medical Center). In 2008, she returned to school and received a Master of Liberal Studies degree with a concentration in The Arts and Cultural Traditions from Southern Methodist University. It was during graduate school that she began her advocacy against the death penalty. Niki has been married to her husband, Hayden, for 18 years and is active in her community, volunteering at her sons' schools, serving as treasurer for her neighborhood parent group, and delivering lunches for Meals on Wheels. Niki served on the TCADP 2018 Annual Conference Committee and chaired the 2019 Annual Conference Committee. She joined the TCADP Board in 2018 and served as secretary for four years.
"Serving on the board of TCADP is just one very small way in which I can contribute to a movement and cause that means so much to me."
---
Monique Coleman is a native New Orleanian and U.S. Army Veteran who relocated to Denton, Texas following Hurricane Katrina. She is also the sister of Ryan Matthews, the 115th person in the United States to be exonerated from death row. After Ryan settled in Texas, Monique decided to remain in the state to facilitate her brother's reintegration, recognizing he would face extreme hardship, harassment and discrimination.
Ryan's wrongful conviction catapulted Monique into the world of advocacy. Over the years, she has participated in panel discussions throughout the country. Monique has also served as an Executive Board Member with Witness to Innocence, a national organization that works to empower exonerated death row survivors to be the most powerful and effective voice in the fight to end the death penalty in the United States.
In 2014, she earned her Bachelor's in Criminal Justice. Under the mentorship of Dr. Cecile Guin, the social worker who advocated on her brother's behalf, Monique then earned a Master's in Social Work from University of Texas at Arlington in 2016. Currently, she is pursuing a PhD in Family Studies at Texas Woman's University.
During the Spring of 2020, Monique interned with the Federal Public Defender's office assisting with mitigation efforts. She has also testified in the Louisiana state legislature and is currently advocating for increased compensation for people who were wrongfully convicted. Her doctoral research focuses on the resilience of the family unit during wrongful incarceration and the reintegration process. Her assigned committee has agreed to support her autoethnographic dissertation project outlining her experiences as the sister of a death row exoneree arrested as a juvenile.
Monique joined the TCADP Board of Directors in May 2021.
"My plan is to give back to the organizations and humanitarians who supported and served our family by providing us with a unique platform. Service to families during such a challenging time is critical to their survival and I feel honored. I am here to support the movement and families facing the same fate we once faced."

---
Silvia Garcia is from El Paso, Texas and is currently residing in Corpus Christi. After graduation from high school, she joined the United States Navy (Reserve component) and spent 24 years serving as a Master At Arms. She joined the El Paso Police Department in 1989 and served in various units such as Community Service, Patrol, Internal Affairs, Crime Stoppers, Bike Patrol, Vice, Impact, Domestic Violence, for 20.5 years until her retirement in 2009. After she became a certified teacher, she joined the El Paso Independent School District as a Dual Credit Law Enforcement Teacher until her retirement in 2022. Silvia holds a Bachelor degree in Business Management and a Masters in Administration of Justice and Security. Currently she is employed by the Pax Christi Institute in Corpus Christi as the Director of the Pax Christi Liturgical Retreat Center.

Silvia serves on the TCADP Lobby Corps. Her journey with TCADP started when she attended her first conference in 2018 and then was instrumental in putting together a virtual conference during the pandemic. She joined the Board in February 2023.

Silvia is most proud of her son, who is a Master Social Worker currently working with unaccompanied minors in El Paso.  Her son and her past students continue to be a very important part of her TCADP path as she involves them in the effort to eliminate the death penalty as a form of punishment.  
Virginia Greenway. Virginia Greenway graduated from the University of Virginia School of Law in 1999 and began practicing criminal law in 2001. She opened her own law firm in 2004 focusing exclusively on criminal defense in the handling of both felonies and misdemeanors in State Court.
Virginia is a past board member and Presiding Director of the Austin Criminal Defense Lawyers' Association and a past head of the Criminal Law Section of the Austin Bar Association. She was a founding member of the TCADP Lobby Corps and joined the Board in February 2019.
---
Rick McClatchy attended Howard Payne University in Brownwood, Texas and received a B.A. in Religion. At Southwestern Baptist Theological Seminary, in Ft. Worth, he received a M.Div. and Ph.D. in Church History. He has served as pastor of four churches and taught in five universities and seminaries. In 1995, he started serving as State Coordinator for the Cooperative Baptist Fellowship of Oklahoma and moved in 2003 to San Antonio to serve as the State Coordinator for the Cooperative Baptist Fellowship of Texas.
Rick and his wife Janie have two adult children—Kristi and Scott. Janie is a retired school teacher and coach. Rick enjoys outdoor activities, movies, reading, traveling, and spending time with family and friends. He joined the Board in February 2021.
"I believe that the death penalty must be ended because all life is sacred and everyone deserves a chance to be transformed. When Jesus refused to sentence the woman caught in adultery to death, which was a capital offense in that day, he forever reminded us that we all are imperfect and should refrain from imposing the death penalty upon others and hope that their life will be transformed."
---
Bob Michael. Bob was born and raised 90 miles north of Dallas in Ardmore, Oklahoma. Upon graduation from high school, he received an appointment to the U.S. Naval Academy, where he graduated with a B.S. in 1970 and took a commission as a 2nd LT in his chosen branch of service, the U.S. Marine Corps. Bob served in a wide variety of assignments at duty stations in the Western Pacific and on both U.S. coasts for the next 6+ years. While on active duty, Bob completed his Master of Science degree with USC in 1976.
Bob joined Caterpillar Tractor Co. in Peoria, Illinois, and worked several years in product support operations as a technical field representative before joining his final employer, Darr Equipment Co., the north Texas Caterpillar dealership. A working career in the "equipment business" at both the manufacturer level and the franchise/dealership level gave Bob the opportunity to participate in a broad range of wholesale and retail challenges along with leadership roles until taking retirement in Carrollton, in 2014.
Post retirement, Bob has been actively involved with a number of "justice issues" and local political campaigns. As a member of the "Advocates for Justice & Peace" at Holy Covenant United Methodist Church in Carrollton, he firmly believes that those who suffer most are those who have little voice or no voice in legislation, law, societal norms, and they have few advocates. Bob has worked for the past few years in support of TCADP's North Texas Coordinator initiatives and also served on the 2018 Annual Conference planning committee.
Bob and his wife Anne reside in Grapevine and have two grown children, two grandchildren, and a Golden Doodle. They enjoy reading, the outdoors, camping and traveling. Bob joined the TCADP Board in February 2019.
"My involvement with social justice issues led me to TCADP six years ago. It was a 'no brainer' to commit, having observed a thoughtful, well informed, sustainable approach to the challenge of ending the death penalty. We cannot continue to ignore systemic injustice, structural flaws, and the disparity in the implementation of the death penalty. TCADP has brand, voice, and impact in Texas. I am proud to add my energy and support to advance its vital cause."