You have a critical role to play in stopping executions in Texas. On this page, you will find the dates of scheduled executions, information on clemency campaigns, and contact information for the Governor of Texas and the Texas Board of Pardons and Paroles. On the days of scheduled executions, we encourage you to take part in vigils in your area. Follow TCADP on X/Twitter @TCADPdotORG for case updates.
Texas Executions in 2023
Past Clemency Campaigns
On November 16, 2023, the State of Texas carried out its last execution of the year. David Renteria of El Paso was put to death after the U.S. Supreme Court denied his final appeal. He spent two decades on death row. We are grateful to everyone who supported his request for clemency and for his attorneys, who fought tirelessly on his behalf.
Brent Ray Brewer
Here are the key things to know about his case:
Over the 32 years he has spent on death row, Brewer has not committed a single act of violence against another person. His exemplary disciplinary record flies in the face of outrageous testimony provided during his trial – and again during a resentencing hearing in 2009 – by the State's now discredited expert, Dr. Richard Coons. Dr. Coons, who never spoke or met with Brewer, did not cite any evidence to support his conclusion that Brewer would likely commit acts of violence in the future. This "future dangerousness" determination is required for a jury to impose a death sentence in Texas. (See "Will the Supreme Court Let Texas Use Junk Science to Kill Brent Brewer?")
One of those jurors did not want to sentence Brewer to death, but Texas's confusing and misleading jury instructions led her to believe her single vote could not change the verdict. Among the many extraordinary aspects of this case is the fact that this juror wrote to Brewer while he was still in county custody and apologized for the verdict. The two developed a friendship, writing to each other and visiting in person. Her experience as a juror led her to earn her bachelor's degree in criminal justice. Read her opinion piece in the Houston Chronicle, "A misleading instruction made me vote for the death penalty" (Note: This piece is behind paywall. Excerpts appear in this article from HuffPost.)
Brewer has long expressed remorse to the Laminack family, recognizing that "money, desperation, drugs, and no forethought" motivated his crime, and that the consequences of his actions were "extreme loss and pain of the victim's family and a brokenness that cannot be fixed." For the past year, he has taken advantage of a new outlet for accepting responsibility for his actions, and expressing his remorse, through his participation in the 18-month-long Faith Based Program on Death Row. Notably, this has been the first and only programming available to Brewer during more than three decades on death row – his entire adult life.
TCADP is grateful to everyone who contacted the Texas Board of Pardons and Paroles in support of clemency for Brent Brewer. Your voice matters.
---
Save Will Speer
UPDATE AS OF 2:00 PM, THURSDAY, OCTOBER 26, 2023: Less than five hours before he was set to be put to death, Will Speer was granted a stay of execution by the Texas Court of Criminal Appeals (Texas CCA).
Speer raised five issues in his application before the Texas CCA, alleging that his counsel had been ineffective for failing to investigate and present his history of unfathomable neglect and abuse to the jury; he also claimed multiple grounds of prosecutorial misconduct, including withholding Brady evidence and presenting false testimony. The CCA stayed the execution pending further order of the Court.
TCADP is grateful to everyone who took part in the campaign to #SaveWillSpeer and to the incredible team of lawyers, mitigation specialists, and investigators who worked tirelessly to save his life.
Updates as of October 24, 2023:
We are very sorry to share that this afternoon, the Texas Board of Pardons and Paroles voted unanimously to deny Will's application for clemency, as well as his request for a reprieve. Per usual, the Board provided no explanation for its decision not to recommend the commutation of Will's sentence to a lesser penalty. Here's a statement from Will's legal team:
Just three and a half months ago, Texas named Will Speer as the first Inmate Coordinator for the Death Row Faith Based Program. Now, the State plans to execute him on Thursday, October 26, 2023.
Speer's childhood was marked by severe physical, emotional, and sexual abuse. With no support system or coping mechanisms, he committed a murder at 16. Upon his conviction, he was incarcerated in one of the most dangerous adult prisons in Texas, where he was beaten by other prisoners so severely that he had to be hospitalized for three weeks. To avoid further assault, he eventually joined a prison gang and agreed to kill another prisoner in exchange for the gang's protection. Speer was sentenced to death in Bowie County in 2001.
---
On October 10, 2023, the State of Texas executed Jedidiah Murphy after the U.S. Supreme Court denied his final appeal. Earlier in the evening, the Court vacated the stay of execution that had been granted by a federal judge and upheld by the Fifth Circuit Court related to Murphy's request for DNA testing.
Murphy immediately accepted responsibility for his crime and expressed profound remorse for the irreplaceable loss and pain his actions have caused. In the two decades he spent on death row, he experienced a genuine spiritual and personal transformation grounded in his Jewish faith.
TCADP thanks everyone who contacted the Texas Board of Pardons and Paroles and Governor Abbott in support of Murphy's clemency application.
---
On April 19, 2023, a district court judge in Collin County withdrew the April 26 execution date for Ivan Cantu after agreeing additional legal proceedings are necessary. Newly discovered evidence, which was not heard by the jury and has never been considered by any court, casts significant doubt on Cantu's 2001 conviction in Collin County. Cantu maintains he was wrongly convicted killing two people in Far North Dallas: his cousin James Mosqueda and Mosqueda's fiancé, Amy Kitchen. Two of the jurors who sentenced him to death want this new evidence to be reviewed, declaring they are disturbed by the prospect they heard false and misleading testimony during the trial.
TCADP thanks everyone who contacted the Texas Board of Pardons and Paroles and Governor Abbott in support of Cantu's clemency application.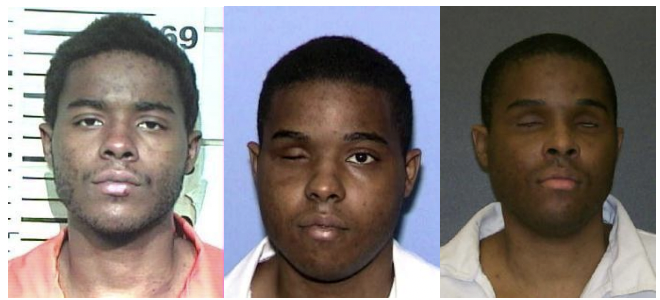 For the past 15 years, Andre Thomas has resided at the Wayne Scott Unit, the Texas Department of Criminal Justice's psychiatric facility, where the most mentally ill Texas prisoners are housed. He suffers from schizophrenia and permanently blinded himself by gouging out both of his eyes, on separate occasions. Over the course of his life, Mr. Thomas sought treatment for the symptoms of his severe mental illness, but no one responded to his increasingly desperate pleas for help.
UPDATE: On March 7, 2023, the 15th Judicial District Court in Grayson County withdrew Andre Thomas's April 5, 2023 execution date to allow his legal team reasonable time to investigate and prepare a threshold showing that Thomas is incompetent for execution. Thanks to everyone who has signed and shared the petition to #SaveAndreThomas. We will be in touch with further developments in this case.
On February 15, 2023, attorneys for Mr. Thomas asked Governor Abbott and the Texas Board of Pardons and Paroles to commute his death sentence to life in prison or, in the alternative, to grant a reprieve to allow the courts to determine whether he is competent for execution, as the Constitution requires. Dozens of Texas mental health professionals and advocates and over 100 Texas faith leaders, along with national Evangelical leaders and the nation's leading mental health organizations, have filed letters supporting the clemency application.
---
We are grateful to everyone who contacted the Texas Board of Pardons and Paroles and Governor Abbott, signed the Innocence Project petition, shared information about Melissa's case with your networks, or otherwise took action to #SaveMelissaLucio. We also want to express our appreciation to her legal team and everyone who supported them in the effort to stop this execution. We will continue to monitor her case for new developments and share updates with you.
What is Clemency?
In order for the Texas Board of Pardons and Paroles to consider clemency for a person facing imminent execution, an application for clemency must be filed. The Governor of Texas has the authority to issue a one-time 30-day reprieve but can grant clemency only upon the recommendation of the Board of Pardons and Paroles. A recommendation from the Board of Pardons and Paroles is not binding, however.
In this comprehensive and illuminating article, Brant Bingamon of the Austin Chronicle takes a deep dive into the Texas Board of Pardons and Paroles, "regarded as the most secretive agency in state government."

Since 1976, the Board of Pardons and Paroles has recommended clemency in only five cases where the inmate faced imminent execution. Then-Governor Rick Perry rejected two of those recommendations and allowed the executions to proceed.
Henry Lee Lucas – Governor George W. Bush commuted his sentence in 1998 due to lingering concerns about his guilt. Lucas died of natural causes in prison in 2001 while serving a life sentence.
Kelsey Patterson – The Board voted 5-1 for clemency but Governor Rick Perry rejected the recommendation. Patterson had a long-standing diagnosis of paranoid schizophrenia. He was executed on May 18, 2004.
Kenneth Foster – Governor Perry commuted Foster's sentence in 2007 due to concern about a Texas law that allowed capital murder defendants to be tried simultaneously. The Board recommended clemency by a vote of of 6-1. Foster had been convicted under the law of parties for a 1996 murder, even though he was sitting in a car 80 feet away at the time of the crime. He is serving a life sentence.
Robert Lee Thompson – Governor Perry rejected the Board's 5-2 recommendation for clemency even though Thompson was not the triggerman in the murder of Mansoor Rahim. He had been convicted under the law of parties. His co-defendant, Sammy Butler, the actual killer of Mr. Rahim, was tried separately and convicted on a lesser charge. Butler is serving a life sentence and will be eligible for parole. Thompson was executed on November 19, 2009.
Thomas "Bart" Whitaker – On February 22, 2018, Governor Greg Abbott accepted the Board's unanimous recommendation of clemency for Whitaker, who was scheduled to be executed that same day. It was the first such commutation in Texas since 2007. Whitaker is now serving life in prison without the possibility of parole. Read the Governor's statement here.
Write the Governor of Texas and the Texas Board of Pardons and Paroles
You are welcome to contact the Board and Governor even when there is no specific clemency campaign. Please note that clemency applications typically are filed 21 days before the execution date, so it is best to send a letter of support around that time. Include the TDCJ #, date of birth, and full name of the person on whose behalf you are writing.
The Board usually informs attorneys of its decision two business days before the execution date.
Here are some general talking points for your letters:
State your concerns about the inherent flaws and failures of the Texas death penalty system.
Express outrage and alarm at the high number of executions that continue to take place in Texas.
Urge the Board of Pardons and Paroles to recommend clemency.
Contact information for calls, letters, and emails*
Texas Board of Pardons and Paroles
Texas Board of Pardons and Paroles
Clemency Section
8610 Shoal Creek Boulevard
Austin, Texas 78757
Phone (512) 406-5852
Fax (512) 467-0945
Online Contact: bpp_clemency@tdcj.texas.gov
Current Members:
Chair: David Gutierrez
Elodia Brito
Carmella Jones
Brian Long
Marsha Moberley
Linda Molina
Ed Robertson
*Letters and emails are preferred by the Board.
Texas Governor Greg Abbott
Office of the Governor
P.O. Box 12428
Austin, Texas 78711-2428
Information and Referral Hotline: (800) 843-5789 [for Texas callers]
Information and Referral and Opinion Hotline: (512) 463-1782 [for Austin, Texas and out-of-state callers]
Office of the Governor Main Switchboard: 512-463-2000
Online Contact: https://gov.texas.gov/contact/
The governor can grant clemency only upon the written recommendation of a majority of the Board of Pardons and Paroles, whose members he appoints. He has the limited authority to grant a one-time, 30-day stay of execution.
Execution Watch
"Execution Watch" can be heard on KPFT HD-2 and online here from 6:00 PM CT to 7:00 PM CT on any day an execution is scheduled in Texas.