You have a critical role to play in stopping executions in Texas. On this page, you will find the dates of scheduled executions, information on clemency campaigns, and contact information for the Governor of Texas and the Texas Board of Pardons and Paroles. On the days of scheduled executions, we encourage you to take part in vigils in your area. Follow TCADP on Twitter @TCADPdotORG for case updates.
Scheduled Executions
Upcoming Execution Dates

July 13, 2022: Texas is scheduled to execute Ramiro Gonzales, who was convicted in Medina County in 2006.

August 17, 2022: Texas is scheduled to execute Kosoul Chanthakoummane, who was convicted in Collin County in 2007.
Stays of Execution

On March 3, 2022, the Texas Court of Criminals stayed the March 8 execution of Michael Gonzales based on his claims of intellectual disability and the withholding of evidence.

On April 25, 2022, two days before the scheduled execution of Melissa Lucio, a likely innocent woman, the Texas Court of Criminal Appeals granted her a stay of execution and directed the trial court to consider her actual innocence claim.
Executions

April 21, 2022: Texas executed Carl Wayne Buntion, who at 78 was the oldest person on death row in Texas and was the oldest person executed by the State. He was convicted in 1991 in Harris County.
Check the TDCJ website for official information on scheduled executions.
Recent Clemency Campaigns
#SaveMelissaLucio
Melissa, one of six women on death row in Texas, was convicted and sentenced to death in Cameron County in 2008 for causing the death of her two-year-old daughter, Mariah. There is compelling evidence that Mariah's death was a tragic accident resulting from a head injury she suffered in a fall—not a homicide.
On April 25, 2022, just two days before her scheduled execution, the Texas Court of Criminal Appeals granted a stay to Melissa Lucio. The Court ordered the 138th Judicial District Court of Cameron Country to consider multiple claims related to new evidence of Melissa's innocence of the accidental death of her daughter, Mariah.
You can find statements from Melissa Lucio and her attorneys in response to the stay here.
The Court's Stay Order re: Application for Post-Conviction and Habeas Petition: https://tinyurl.com/42h4zb6n
Melissa Lucio's First Subsequent Application for Writ of Habeas Corpus can be viewed here: https://tinyurl.com/2paxuabx
We are grateful to everyone who contacted the Texas Board of Pardons and Paroles and Governor Abbott, signed the Innocence Project petition, shared information about Melissa's case with your networks, or otherwise took action to #SaveMelissaLucio. We also want to express our appreciation to her legal team and everyone who supported them in the effort to stop this execution. Melissa's path to justice took a major step forward today. We will continue to monitor her case for new developments and share updates with you.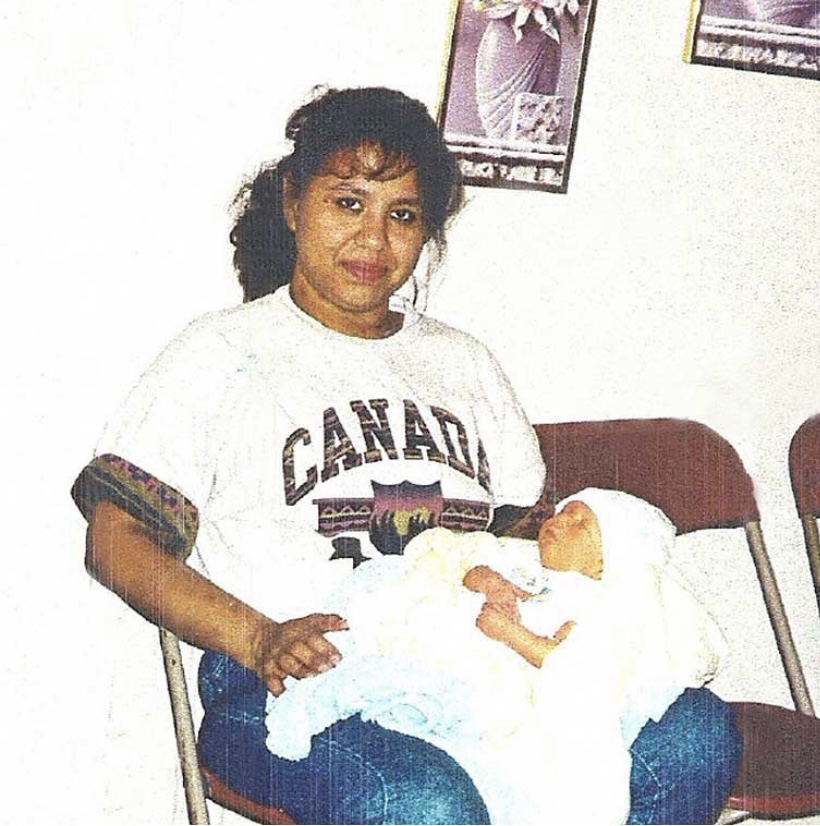 Clemency Campaign Overview
On March 22, 2022, attorneys for Melissa submitted an application for clemency to Governor Greg Abbott and the Texas Board of Pardons and Paroles. New evidence in the application-which the jury never heard-shows that Melissa, a victim of sexual abuse and domestic violence, was wrongly convicted and condemned to die for Mariah's accidental death.
The clemency application and exhibits include letters of support from:
Melissa's children;
Five jurors;
225 anti-domestic violence/sexual assault organizations from Texas and across the country;
Over 130 Baptist, Evangelical and Catholic faith leaders in Texas, including more than 50 Baptist leaders, the Executive Director of the Hispanic Baptist Convention of Texas, and the Director of the Rio Grande Valley Baptist Association;
More than 30 groups that work on behalf of Latinos in Texas and across the U.S., including the National Hispanic Caucus of State Legislators (NHCSL);
Eighteen people wrongfully convicted of a crime in a Texas state court, including Hannah Overton and Michael Morton; and
Twenty-six death row exonerees, including two from Texas.
On April 12, Melissa's attorneys submitted a supplemental clemency application to the Board and Governor. It includes a new declaration from a fifth juror—Melissa's jury foreperson—who joins four other jurors and the alternate in expressing grave concerns about the evidence withheld from them at Melissa's capital trial and supporting relief. The supplemental application can be viewed here: https://tinyurl.com/2s39jsah.
A bipartisan group of 21 State Senators has endorsed a letter of support for clemency for Melissa, joining more than 80 members of the Texas House of Representatives who have also called for clemency. A group of seven State Representatives visited Melissa in prison earlier this month and were allowed to pray with her.
On April 15, 2022, attorneys filed a 242-page application for a writ of habeas corpus asking the Texas Court of Criminal Appeals to stay Melissa's execution and vacate her conviction and death sentence. The filing represented the first time the courts had the opportunity to consider the new scientific and expert evidence showing that Melissa's conviction was based on an unreliable, coerced "confession" and unscientific false evidence that misled the jury about what caused Mariah's tragic death. On April 25, 2022, just two days before her scheduled execution, the Texas Court of Criminal Appeals issues a stay and directed the trial court to consider multiple claims pertaining to new evidence and actual innocence.
Learn more and share information about Melissa with your networks.
On the March 6, 2022 episode of HBO's "Last Week Tonight," host John Oliver included Melissa's case in a segment on wrongful convictions, calling her plight "the most horrific thing imaginable." Watch it now.
We also recommend watching/reading/listening to the following:
"I'm an expert in false confessions who looked at Melissa Lucio's case. Texas is executing an innocent woman." by Dr. Gisli H. Gudjonsson, The Independent, April 7, 2022
"Opinion: The Bipartisan Case for the Life of Melissa Lucio" by State Representatives Joe Moody and Jeff Leach, Houston Chronicle, April 9, 2022
"I Was An Innocent Woman Sentenced To Die. Here's Why Melissa Lucio Must Be Saved." by Sabrina Butler-Smith, published in Elle Magazine, March 31, 2022
"Opinion: Melissa Lucio deserves the chance to prove her innocence" by Hannah Overton, published in the Austin American-Statesman, March 27, 2022
"Opinion: Melissa Lucio's case one that cries out for mercy" by Pastor Jesse Rincones, published in the Lubbock Avalanche-Journal, March 27, 2022
The Isiah Factor: "Texas mother set to be executed next month over daughter's death;" March 10, 2022
Truthout: "Texas Plans to Execute an Abuse Survivor Based on a Coerced Confession;" March 11, 2022
The Intercept: "Rush To Judgment: Is Texas Sending Melissa Lucio to Die for a Crime that Never Happened?" March 5, 2022
Texas Public Radio: "Melissa Lucio could soon become the first Latina executed in Texas despite serious concerns about her case"; February 27, 2022
The Marshall Project: "How Melissa Lucio Went From Abuse Survivor to Death Row;" February 24, 2022
What is Clemency?
In order for the Texas Board of Pardons and Paroles to consider clemency for a person facing imminent execution, an application for clemency must be filed. The Governor of Texas has the authority to issue a one-time 30-day reprieve but can only grant clemency upon the recommendation of the Board of Pardons and Paroles. A recommendation from the Board of Pardons and Paroles is not binding, however.
Since 1976, the Board of Pardons and Paroles has recommended clemency in only five cases where the inmate faced imminent execution. Then-Governor Rick Perry rejected two of those recommendations and allowed the executions to proceed.
Henry Lee Lucas – Governor George W. Bush commuted his sentence in 1998 due to lingering concerns about his guilt. Lucas died of natural causes in prison in 2001 while serving a life sentence.
Kelsey Patterson – The Board voted 5-1 for clemency but Governor Rick Perry rejected the recommendation. Patterson had a long-standing diagnosis of paranoid schizophrenia. He was executed on May 18, 2004.
Kenneth Foster – Governor Perry commuted Foster's sentence in 2007 due to concern about a Texas law that allowed capital murder defendants to be tried simultaneously. Foster had been convicted under the law of parties for a 1996 murder, even though he was sitting in a car 80 feet away at the time of the crime. He is serving a life sentence.
Robert Lee Thompson – Governor Perry rejected the Board's recommendation for clemency even though Thompson was not the triggerman in the murder of Mansoor Rahim. He had been convicted under the law of parties. His co-defendant, Sammy Butler, the actual killer of Mr. Rahim, was tried separately and convicted on a lesser charge. Butler is serving a life sentence and will be eligible for parole. Thompson was executed on November 19, 2009.
Thomas "Bart" Whitaker – On February 22, 2018, Governor Greg Abbott accepted the Board's unanimous recommendation of clemency for Whitaker, who was scheduled to be executed that same day. It was the first such commutation in Texas since 2007. Whitaker is now serving life in prison without the possibility of parole. Read the Governor's statement here.
Write the Governor of Texas and the Texas Board of Pardons and Paroles
You are welcome to contact the Board and Governor even when there is no specific clemency campaign. Please note that clemency applications typically are filed 21 days before the execution date, so it is best to send a letter of support around that time. Be sure to include the TDCJ #, date of birth, and full name of the person on whose behalf you are writing.
The Board usually informs attorneys of its decision two business days before the execution date.
Here are some general talking points for your letters:
State your concerns about the inherent flaws and failures of the Texas death penalty system.
Express outrage and alarm at the high number of executions that continue to take place in Texas.
Urge the Board of Pardons and Paroles to recommend clemency.
Contact information for calls, letters, and emails*
Texas Board of Pardons and Paroles
Texas Board of Pardons and Paroles
Clemency Section
8610 Shoal Creek Boulevard
Austin, Texas 78757
Phone (512) 406-5852
Fax (512) 467-0945
Online Contact: bpp_clemency@tdcj.texas.gov
Current Members:
Chair: David Gutierrez
Carmella Jones
James LaFavers
Brian Long
Marsha Moberley
Linda Molina
Ed Robertson
*Letters and emails are preferred by the Board.
Texas Governor Greg Abbott
Office of the Governor
P.O. Box 12428
Austin, Texas 78711-2428
Information and Referral Hotline: (800) 843-5789 [for Texas callers]
Information and Referral and Opinion Hotline: (512) 463-1782 [for Austin, Texas and out-of-state callers]
Office of the Governor Main Switchboard: 512-463-2000
Online Contact: https://gov.texas.gov/contact/
The governor can grant clemency only upon the written recommendation of a majority of the Board of Pardons and Paroles, whose members he appoints. He has the limited authority to grant a one-time, 30-day stay of execution.
Execution Watch
"Execution Watch" can be heard on KPFT HD-2 and online here from 6:00 PM CT to 7:00 PM CT on any day an execution is scheduled in Texas.