TCADP's Annual Conference is a one-day event for anyone interested in learning about the death penalty and becoming involved in our efforts.  It features a panel discussion, workshops, a keynote address, and the presentation of our annual awards. The conference provides a unique opportunity to connect with supporters across the state and hear about the progress we are making towards ending the death penalty in Texas.
The conference typically takes place the third Saturday in February.  In odd-numbered years, we hold the conference in Austin.  We rotate the location of the conference among major cities in Texas in even-numbered years.
The TCADP 2019 Annual Conference: Uniting for Justice will take place on Saturday, February 16, 2019 at St. David's Episcopal Church in downtown Austin, Texas (301 E. 8th Street).
Online registration includes breakfast and the awards luncheon. Tickets for the keynote address and luncheon are available for those who cannot attend the full day.
---
Confirmed program details for the TCADP 2019 Annual Conference: Uniting for Justice
(Sponsors, Keynote Speaker, Panelists, Workshops, and Award Recipients)
Sponsors
Dr. Keeley Crowfoot
David Dow
Fort Worth Monthly Meeting of Friends
Dr. Kimberly Harrison
John Mimbela
Law Office of Omar Vargas
Methodist Federation for Social Action – Rio Texas Chapter
Morsigns
Professor Ana Otero
Sisters of Charity of the Incarnate Word, San Antonio
Support also has been provided by the Judith Filler Foundation.
Keynote Speaker
The TCADP 2019 Annual Conference planning committee is thrilled to announce that Jason Baldwin will keynote the awards luncheon at the conference.
Jason was released from prison on August 19, 2011 after serving more than 18 years in Arkansas for crimes he did not commit. Known collectively as the "West Memphis 3," Jason and co-defendants Jessie Misskelley, Jr.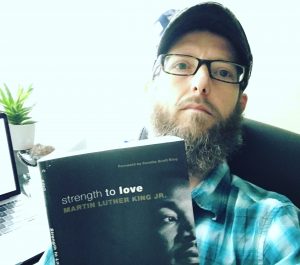 and Damien Echols, were wrongfully convicted for murdering three 8-year old boys in West Memphis, Arkansas. The factors surrounding their wrongful conviction led to a worldwide effort to free the three and expose the injustice of the Arkansas legal system.
While in prison, Jason worked many jobs.  One of his favorites was as law clerk in the Varner Supermax Law Library, where he served general population, administrative segregation and Safe Keeping (Death Row) inmates. Even when he was not assigned to the law library as a clerk he spent most of his free time there. He also volunteered his time in the Jaycees and Inmate Panel, where he helped forge such programs as an inmate-funded scholarship program that benefited the families of inmates and guards with the goal of erasing the hard line drawn between inmate and staff – reminding all of their humanity and each's responsibility to their community. In a world where most prisons are violent places, Jason worked tirelessly to foster a sense of community, self-worth and a belief that compassion is healthier than condemnation any day.
Jason is a co-founder of Proclaim Justice and is currently working as the organization's deputy director. He is currently pursuing undergraduate studies leading to a degree in law.
---
Workshops
We are pleased to offer the following breakout sessions at the conference:
Morning sessions (11:30 AM to 12:30 PM):
The national death penalty landscape
Legislative advocacy: A one-on-one conversation with State Representative Joe Moody
The role of mitigating evidence in capital cases
Afternoon sessions (2:30 PM to 3:30 PM):
The clemency process in Texas
The shrinking writ of habeas corpus
Changing the death penalty landscape at the county level
Annual Awards
The TCADP Board of Directors is delighted to announce the recipients of our 2019 Awards, which will be presented during the TCADP 2019 Annual Conference on Saturday, February 16, 2019 at St. David's Episcopal Church in downtown Austin.
For 2019, most of our awards relate to two cases that profoundly touched our hearts this year: Thomas "Bart" Whitaker and Christopher Young.  Click here for detailed descriptions of each award recipient.
Appreciation Awards
TCADP's Appreciation Awards are bestowed upon individuals and organizations who have made significant contributions to our efforts to end the death penalty in Texas.  We are pleased to present our 2019 Appreciation Awards to the following individuals:
 State Representative Donna Howard, for co-authoring legislation to repeal the death penalty in the 85th Texas Legislature
 Larry James, for his outreach efforts on behalf of Chris Young, who was executed by the State of Texas on July 17, 2018
Courage Awards
TCADP's Courage Award recognizes those who have encountered the death penalty firsthand and bravely shared their experiences with decision makers and with the public at large.  We are humbled to present our 2019 Courage Awards to two individuals whose pleas for mercy inspired hundreds of thousands of people in Texas and around the country:
Mitesh Patel, for publicly and selflessly calling for mercy for the man who killed his father and recognizing the spark of redemption in Chris Young
Kent Whitaker, for displaying unconditional love and forgiveness in his tireless determination to secure clemency for his son, Thomas "Bart" Whitaker
Media Award
TCADP's Media Award is presented to journalists, media outlets, filmmakers, authors, and artists who raise awareness of death penalty issues through their respective mediums.  This year, we are honored to recognize the work of filmmaker Laurence Thrush, whose powerful video interviews with Chris Young and his daughter, Crishelle Young, played a central role in our public mobilization campaign to stop Young's execution.
David P. Atwood Founder's Award
The David P. Atwood Founder's Award was established by the TCADP Board of Directors in 2011 in honor of Houstonian Dave Atwood, who established our organization more than 20 years ago. The award is given at the discretion of the TCADP Board and honors those who have made a lifelong commitment to justice.  The 2019 award will be bestowed upon defense attorney Keith Hampton, in recognition of the decades of zealous legal representation he has provided to individuals on death row in Texas and, particularly, his inspiring efforts to secure clemency for Kenneth Foster and Thomas Whitaker.
Learn more about our award winners and join us in celebrating these extraordinary individuals at the conference luncheon.  We also invite you to congratulate the honorees by placing an ad in the conference program and/or sponsoring a table.  Registration, sponsorship, and exhibitor/ad forms are available online.
---
2019 Panel: Voices on the Front Lines
The morning panel discussion at the conference will present views of the death penalty from individuals who have served on the front lines of the criminal justice system. We are delighted to confirm the participation of the following panelists:
The Honorable Elsa Alcala, who has served as a judge and justice in three courts over twenty years. Judge Alcala served on the Texas Court of Criminal Appeals, the state's supreme court for criminal cases, from 2011 to 2018. She authored over 80 signed majority opinions, 93 dissenting opinions, and 195 concurring opinions while on that court, many of which addressed the propriety of the death penalty.
Retired State District Judge Mike Lynch, who presided over the 167th District Court in Travis County from to 1993 to 2012.  Earlier this year, he authored a compelling piece for the Marshall Project, "Why this judge dreads execution day." 
State Representative Joe Moody, who serves as Chairman of the Texas House Criminal Jurisprudence Committee. Representative Moody represents House District 78 in El Paso.  This summer, he explained in an opinion piece that he had "moved from longtime support of capital punishment to the moral certainty that it's time for Texas to abolish the death penalty."
Keri Blakinger will moderate the panel.  Keri is a reporter at the Houston Chronicle, where she covers criminal justice with a focus on prisons and capital punishment.
---
For information about past TCADP conferences, please visit the archives page.