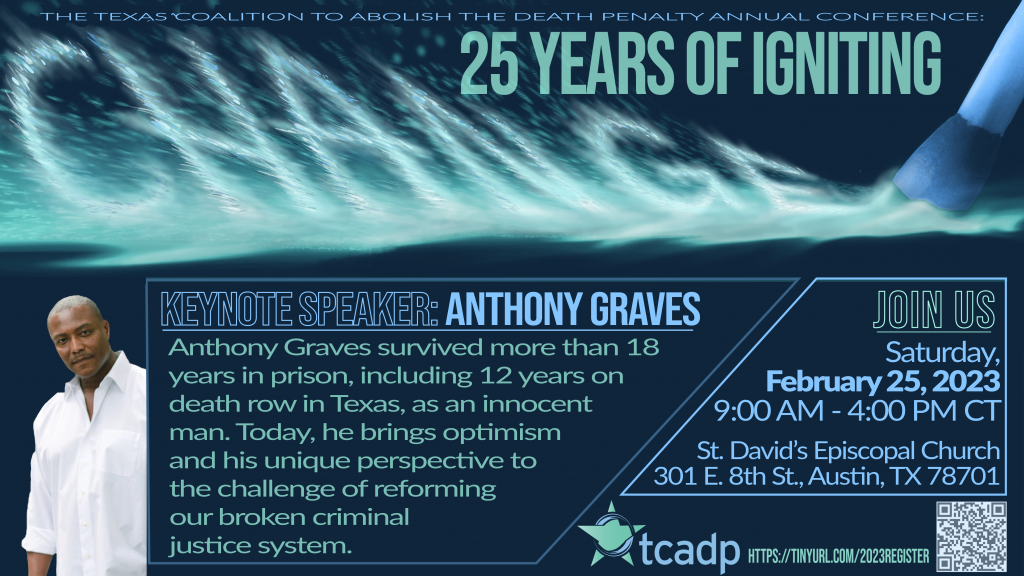 After gathering for the past two years on Zoom, TCADP is delighted to announce the return of our annual conference as an in-person event! The TCADP 2023 Annual Conference: 25 Years of Igniting Change will take place on Saturday, February 25, 2023 at St. David's Episcopal Church in downtown Austin. The program will include a panel discussion, a keynote address and awards luncheon, and breakout sessions on a variety of topics.

Registration is open and sponsorship opportunities are available! You'll find details on our keynote speaker, panelists, and award recipients below. Check this page for updates on the program.
For anyone who needs overnight accommodations, TCADP has secured a group rate at the Courtyard by Marriott Austin University Area (5660 N. Interstate Hwy 35, Austin, TX 78751). Call 512-458-2340 to make a reservation; tell them you are with the "Texas Coalition to Abolish the Death Penalty Conference" to receive the group rate of $129/night on February 24-25, 2023.
Generous support for the conference is provided by the Judith Filler Foundation and the following sponsors: Angelle Adams; Dr. Kimberly Harrison; Bob Michael; John Mimbela (Champion); and Michael Wong.
KEYNOTE SPEAKER: ANTHONY GRAVES
Anthony Graves spent 18 1⁄2 years incarcerated for a murder he knew nothing about. Twelve of those years were spent in hellish conditions on Texas's death row. He was freed and exonerated on October 27, 2010. Today, Anthony brings optimism and his unique perspective to the challenge of reforming our broken criminal justice system. Through multiple execution dates and the challenges of keeping his soul intact, Anthony saw the worst that Texas had to offer. He was railroaded by police officers and Texas Rangers who fabricated evidence, lied in court, and manipulated witnesses. He endured a prosecutor—now disbarred for what a federal court called "egregious prosecutorial misconduct"—who hid evidence, bent the law, and pursued an unjust death sentence.
In prison, Anthony reflected on a broken system that allows young men and women to languish under harsh sentences. Every night on death row, he planned for the day he would walk out of prison a free man. He planned to bring change to a system so often unfair to those who come before. Anthony now works at the Harris County Public Defender's Office as Director of Community Outreach, where he has implemented a project geared to mentor defendants and their family members through the criminal system and is fulfilling his dream of creating a criminal justice system that treats people fairly, strives for equality, and respects the humanity of the guilty and innocent alike.
PANEL DISCUSSION: Fueling efforts to stop executions
Gretchen Sween initially worked to highlight the flawed arguments used to justify the death penalty while teaching introductory philosophy classes to undergraduates. When she decided to change career paths, as a law student at the University of Texas School of Law, she became involved with the law school's Capital Punishment Clinic and worked as a research assistant for Professor Jordan Steiker, an expert in death penalty jurisprudence. Thereafter, while practicing civil trial and appellate law at prestigious firms, she worked on numerous pro bono appeals in capital cases, including authoring amicus briefs in support of petitioners to the Supreme Court of the United States. She eventually took up the direct representation of an indigent individual, Raphael Holiday, litigating his right to obtain substitute counsel after being abandoned by counsel on the brink of an execution date. That experience changed the trajectory of her life. Since late 2015, she has been dedicated to defending indigent individuals in death penalty cases full time. She is based in Austin.
Quinncy McNeal is Pro Bono Counsel with Husch Blackwell, where he counsels overlooked minority companies and individuals across the nation, widening and streamlining legal options as they seek a foothold in the marketplace. He is also a member of Rodney Reed's legal defense team, which secured a stay of execution from the Texas Court of Criminal Appeals on November 15, 2019, just five days before Reed was scheduled to be put to death. McNeal first learned about Reed's case while working as a television news journalist in Austin and was deeply troubled by evidence that undermined Reed's conviction. According to an interview with the ABA Journal in 20015, McNeal's decision to go to law school was influenced by Rodney Reed and by the case of Darlie Routier, a Texas woman accused of killing her two children.
TCADP 2023 AWARD RECIPIENTS
Appreciation Awards
TCADP's Appreciation Awards are bestowed upon individuals and organizations who have made significant contributions towards efforts to end the death penalty in Texas. We present our 2023 Appreciation Awards to the following individuals:
Dr. Bill Bush is a Professor of History and Director of the Honors Program at Texas A&M University-San Antonio whose current research interests include an ongoing historical study of youthful capital offenders. In recent years he has provided support for the clemency campaigns of two individuals who faced execution by the State of Texas for crimes committed when they were 18 years old. Professor Bush's opinion pieces about the cases of Billy Joe Wardlow (2020) and Ramiro Gonzales (2022) generated awareness of the inappropriateness of sentencing individuals under age 21 to death and the false determination of "future dangerousness."
Pastor Jesse Rincones is the Executive Director of the Hispanic Baptist Convention of Texas. In the spring of 2022, he became involved in the campaign to stop the execution of Melissa Lucio. Pastor Rincones joined other faith leaders in calling for clemency for Lucio. He also authored an opinion piece about the case, which was published by the Lubbock Avalanche-Journal, and participated in a bilingual virtual press conference with Lucio's attorneys that addressed the widespread support for clemency. Lucio received a stay from the Texas Court of Criminal Appeals two days before her scheduled execution in April.
Dr. Rachel Jennings is a stalwart TCADP member in San Antonio. A constant presence at vigils on the days of executions in Texas, even during the pandemic, Rachel is a dedicated participant in the activities of TCADP both locally and virtually. She also has given presentations on the death penalty to her church and to college students and published poems on the issue. Rachel teaches English at San Antonio College in San Antonio and serves on the board of the Esperanza Peace and Justice Center.
Courage Award
TCADP's Courage Award recognizes individuals who have encountered the death penalty firsthand and shared their experiences with decision makers and the public at large. We are pleased to present our 2023 Courage Award to Nueces County District Attorney Mark Gonzalez.
Mark Gonzalez was elected district attorney of Nueces County in 2016. Prior to his election, he served as a criminal defense lawyer for eight years and was named 2011 Criminal Defense Lawyer of the Year by the Corpus Christi Bar Association. Gonzalez is a graduate of Texas A&M Corpus Christi and St. Mary's University School of Law.

After an execution date was set for John Ramirez in April 2022, DA Gonzalez petitioned the court to withdraw it, explaining that the motion for a date was made by an Assistant District Attorney without his knowledge. In his motion to withdraw the execution date, DA Gonzalez stated he "has the firm belief that the death penalty is unethical and should not be imposed on Mr. Ramirez or any other person while [he] occupies the office in question." While his efforts to withdraw the date and stop the execution did not succeed, we commend DA Gonzalez for using his discretion as a DA to seek justice in Nueces County.
Media Awards
TCADP's Media Award is presented to journalists, media outlets, filmmakers, authors, and artists who raise awareness of death penalty issues through their respective mediums. This year, we are delighted to recognize Brant Bingamon and Keri Blakinger:
Brant Bingamon writes the column "Death Watch" for the Austin Chronicle, a media outlet with a long commitment to telling the stories of those sentenced to death in Texas. Brant exemplifies this commitment in his portrayal of the innate humanity of individuals facing execution by the State of Texas.
Keri Blakinger is a Texas-based journalist and the author of Corrections in Ink, a memoir tracing her path from figure skating to heroin addiction to prison and, finally, to life as an investigative reporter covering mass incarceration.
Comments From Past Participants
"Despite this being an online conference, it was very emotional and just as impactful had it been in person."

2022 Conference Participant
"The bar is set very high. It will be hard to do any better next time. Thanks so much."

2022 Conference Participant
"In a time of webinar and Zoom fatigue, it was one of the first conferences in a while that I stayed for the whole thing. It was good to hear from former death row persons."

2021 Conference Participant
"Incredibly informative, I have never attended a conference and I am so grateful for this experience and efforts to abolish the death penalty."

2020 Conference Participant
"Last year was awesome; this year was super awesome."

2020 & 2019 Conference Participant
"Your work to make it so seamless made people connect in amazing ways. Those connections will last long after this event."

2019 Conference Participant
"Initially, I didn't know what to expect from a virtual conference. You all did a terrific job in making this as good as a face-to-face conference. The entire production was great!"

2021 Conference Participant
"I'm sending this note to thank you and TCADP for the informative conference today. I attended with my father who invited me. I knew very little about this issue before today and found the conference to be enlightening. The panel discussion, keynote and awards, and the workshops were interesting, thought provoking, and informative. The facility was very nice and comfortable, and the food was excellent. It was a well-organized and interesting day, and I appreciate all the work that you and your group did to make this happen."

2020 Conference Participant
"This was the first TCADP conference I have attended, and I wasn't sure what to expect. The truth is that I was quite impressed. It was well run, well staffed, and well attended."

2019 Conference Participant