TCADP's Annual Conference is a special one-day event for anyone who wants to learn more about the death penalty in Texas.  It features a panel discussion, workshops, a keynote address, and the presentation of our annual awards. The conference provides a unique opportunity to connect with supporters across the state and hear about the progress we are making towards ending the death penalty in Texas.
Note: The TCADP 2021 Annual Conference will take place as a virtual event on Saturday, February 27, 2021.  More details coming soon!
Comments from participants in past conferences:
"I'm sending this note to thank you and TCADP for the informative conference today. I attended with my father who invited me. I knew very little about this issue before today and found the conference to be enlightening. The panel discussion, keynote and awards, and the workshops were interesting, thought provoking, and informative. The facility was very nice and comfortable, and the food was excellent. It was a well-organized and interesting day, and I appreciate all the work that you and your group did to make this happen." – 2020 Conference Participant
"Incredibly informative, I have never attended a conference and I am so grateful for this experience and efforts to abolish the death penalty." – 2020 Conference Participant
"Last year was awesome; this year was super awesome." – 2020 and 2019 Conference Participant
"This was the first TCADP conference I have attended, and I wasn't sure what to expect. The truth is that I was quite impressed. It was well run, well staffed, and well attended." – 2019 Conference Participant
"Your work to make it so seamless made people connect in amazing ways.   Those connections will last long after this event." – 2019 Conference Participant
---
The conference typically takes place in February.  In odd-numbered years, we hold the conference in Austin.  We rotate the location of the conference among major cities in Texas in even-numbered years.
TCADP 2020 Annual Conference
The TCADP 2020 Annual Conference took place on Saturday, February 29, 2020 at the Whitley Theological Center on the campus of the Oblate School of Theology in San Antonio, Texas. The theme of the conference was "2020 Vision for Texas: A Leap Towards Justice."  On this page, you'll find program details, including our panelists, keynote speakers, and award recipients.
View photos from the conference, courtesy of Adrian Garcia/FOMAS Cine, on the TCADP Facebook page.
2020 Conference Sponsors
The Judith Filler Foundation, Underwriter
Joellyn Champagne
Congregation of the Sisters of Charity of the Incarnate Word, San Antonio
David R. Dow
Flanary Law Firm, PLLC
Virginia Greenway
Dr. Kimberly Harrison
Jan Heinrichs
Anne and Bob Michael
John Mimbela
Professor Ana Otero
---
2020 Panel: A Leap Towards Justice in Bexar County
Our panel discussion focused on past and present practices and approaches to the death penalty in Bexar County, a community that is emblematic of how the death penalty landscape has changed in Texas.  We were delighted to host the following panelists:
Bexar County District Attorney Joe Gonzales was elected in November 2018 and sworn into office on January 1, 2019.  He has 30 years in practice of criminal law, having experienced both sides of the bar, and also is a former member of the Judiciary.  Today, DA Gonzales advocates that every person should have equal rights and opportunities under the justice system and he has pledged to work on promoting criminal justice reform.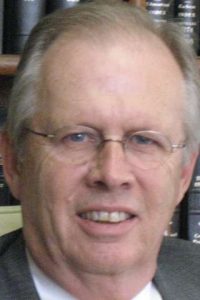 Sam Millsap was elected Bexar County District Attorney in 1982 and served in that office until 1987. Throughout his legal career, he has been a trial lawyer, representing both plaintiffs and defendants in state and federal courts.  Among other notable cases as Bexar County DA, Millsap prosecuted Ruben Cantu for capital murder; Cantu was executed in 1992.  In December 2005, investigative reporting by the Houston Chronicle raised serious questions about Cantu's guilt.  Millsap, acknowledging he made an error in judgment when he decided to seek the death penalty on the basis of testimony by a single eyewitness, assumed personal responsibility for Ruben Cantu's execution and became an internationally recognized opponent of the death penalty.
Professor Roger Barnes of the University of Incarnate Word moderated the discussion.
---
2020 Keynote Speakers
We were humbled to present Rodrick Reed and Wana Akan as our 2020 keynote speakers.  Rodrick and Wana, along with other members of the Reed family, mobilized millions of people worldwide to oppose Rodney Reed's scheduled execution on November 20, 2019.  They inspired support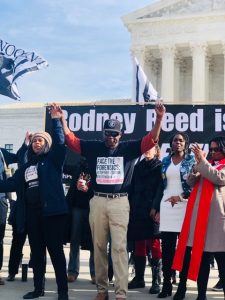 from celebrities, elected officials, and people of all ages and backgrounds.
Wana Akpan is Rodney Reed's sister-in-law. She first learned about Rodney Reed's case while serving as an AmeriCorps Survivor Advocate at SAFE Austin- the local sexual assault and domestic violence advocacy agency in Austin, Texas.  AmeriCorps members participate in the annual Dr. Martin Luther King Jr. March and celebration at Huston-Tillotson University every year. In 2015, the first table Wana encountered at the MLK Day March celebration was one that included TCADP's flyers and information about Rodney's case. A woman at the table informed her about Rodney's case and emphasized how there was crime scene evidence that had never been DNA tested in the case that could prove Rodney's innocence. Wana has been involved with the efforts to prove Rodney's innocence and  free him ever since. She currently serves as the Communications Manager for the family-led Reed Justice Initiative collaborative established by Rodney Reed's family members. RJI's mission is to end the death penalty and eradicate wrongful convictions throughout the United States, starting with Texas.
Rodrick Reed is Rodney Reed's younger brother. Rodrick and his parents, Sandra Reed and Walter Reed, have been fighting to prove Rodney's innocence and to free him from the very beginning when he was wrongfully convicted of the murder and rape of Stacey Stites.  Rodrick is the Vice President of Reed Justice Initiative.  The idea for Reed Justice Initiative was born out of a series of conversations between Rodrick and Rodney, during which Rodney encouraged Rodrick to establish a collaborative to advocate for Rodney and people in similar situations to Rodney.
Workshop Speakers
Here are some of the individuals who led breakout sessions:
---
2020 Award Recipients
The 2020 Awards were presented during the luncheon at the TCADP 2020 Annual Conference on Saturday, February 29, 2020 at the Whitley Conference Center on the campus of Oblate School of Theology in San Antonio, Texas.  Click here for detailed descriptions of each award recipient.
Appreciation Awards
TCADP's Appreciation Awards are bestowed upon individuals and organizations who have made significant contributions to our efforts to stop executions and end the death penalty in Texas.  Our 2020 Appreciation Awards honored these individuals: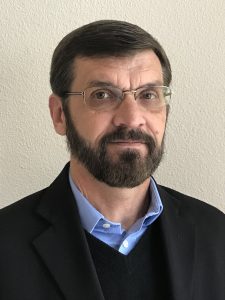 Rick McClatchy, State Coordinator for the Cooperative Baptist Fellowship of Texas, for his leadership in responding to the Texas Department of Criminal Justice's abrupt decision in April 2019 to remove chaplains from the execution chamber, just days after the U.S. Supreme Court issued a stay of execution to Patrick Murphy on grounds of religious discrimination.
Quinncy McNeal, a Houston-based attorney with Mayer Brown who is part of Rodney Reed's legal defense team in conjunction with Bryce Benjet, Senior Staff Attorney for the Innocence Project, and Andrew MacRae of Levatino Pace PLLC.  The team secured a stay of execution from the Texas Court of Criminals on November 15, 2019, just five days before Reed was scheduled to be put to death.  McNeal first learned about Reed's case while working as a television news journalist in Austin.
Courage Award
TCADP's Courage Award recognizes individuals who have encountered the death penalty firsthand and bravely shared their experiences with decision makers and the public at large.  Our 2020 Courage Award honored a public servant who inspires us every day by speaking truth to power, The Honorable Elsa Alcala.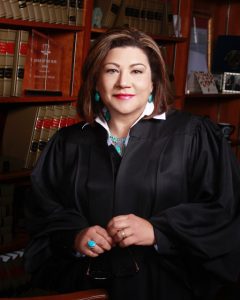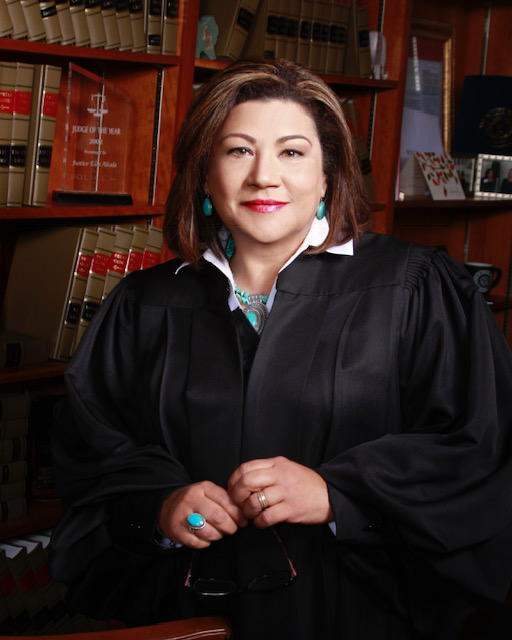 In 2018, Judge Alcala left the judiciary after 20 years as a state judge in Texas, having served three different courts. During her 7.5 years on the Texas Court of Criminal Appeals, she authored over 80 signed majority opinions, 93 dissenting opinions, and 195 concurring opinions, many of which addressed the propriety of the death penalty.  During the 2019 Texas legislative session, she advocated zealously for death penalty reforms as the policy director for the Texas Defender Service.
Media Award
TCADP's Media Award is presented to journalists, media outlets, filmmakers, authors, and artists who raise awareness of death penalty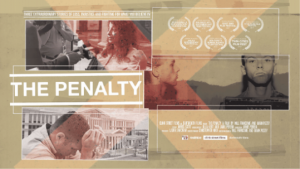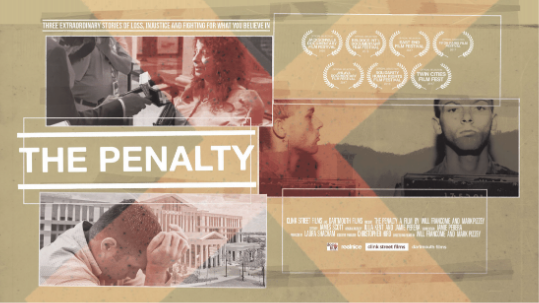 issues through their respective mediums.  In 2020, we were delighted to recognize filmmakers Will Francome, Mark Pizzey, and Laura Shacham and their documentary films, "The Penalty" and "One for Ten."
---
For information about past TCADP conferences, please visit the archives page.