The TCADP 2021 Annual Conference: Reckoning with Injustice in the Death Penalty and Beyond took place as a virtual event on Saturday, February 27, 2021. We extend our gratitude to our speakers and all who participated.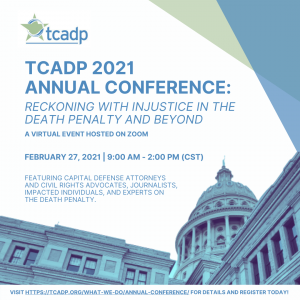 Generous support for the TCADP 2021 Annual Conference was provided by the Judith Filler Foundation and by the following sponsors: Flanary Law Firm; Virginia Greenway; Jan Heinrichs; Anne and Bob Michael; Professor Ana Otero; and Omar Vargas.  
2021 Panel Discussion
Our esteemed panelists addressed the impact of COVID-19 on use of the death penalty and on incarcerated individuals throughout the state and country.  
Shawn Nolan is the Chief of the Capital Habeas Unit in the Federal Community Defender Office for the Eastern district of Pennsylvania in Philadelphia.  His office represents individuals on death row in Texas, including Ruben Gutierrez, whose June 16, 2020 execution date was stayed at the eleventh hour by the U.S. Supreme Court.  One of Shawn's federal clients, Dustin Honken, was put to death on July 17, 2020.  Shawn witnessed his execution.
Keri Blakinger

is a reporter at the 

The Marshall Project

, where she covers criminal justice with a focus on prisons and capital punishment.  Keri has written extensively about how corrections systems have responded to the pandemic and the toll the virus has taken on individuals in prisons and jails nationwide.

Delia Perez Meyer, the sister of Louis Castro Perez.  Mr. Perez has spent more than 21 years on Texas's death row for a crime he maintains he did not commit.
The panel was moderated by Jessica Brand of The Wren Collective.
2021 Award Recipients
The TCADP Board of Directors was humbled to honor three capital defense attorneys whose zealous advocacy has spared numerous individuals from execution and impacted the future of the death penalty in Texas.  Click here for a detailed description of each award recipient. 
Appreciation Awards
Cliff Sloan teaches Criminal Justice, Constitutional Law, and Death Penalty Litigation at Georgetown Law.  Cliff led the legal team for Bobby Moore, whose case has fundamentally changed the way the State of Texas assesses intellectual disability claims in capital cases.  
Gretchen Sween devotes her full-time practice to defending indigent individuals in death penalty cases.  In June 2020, she secured a rare win at the U.S. Supreme Court in the capital case of Terence Andrus, who was convicted and sentenced to death in Fort Bend County in 2012 after his trial counsel failed to present or even investigate readily available mitigating evidence of his troubled upbringing and mental health issues. 
Founder's Award
The David P. Atwood Founder's Award was established by the TCADP Board of Directors in 2011 in honor of Houstonian Dave Atwood, who established our organization more than 20 years ago. The award is given at the discretion of the TCADP Board and honors those who have made a lifelong commitment to justice. The recipient of the 2021 Founder's Award is defense attorney Richard ("Dick") Burr in recognition of his lifetime of zealous advocacy on behalf of individuals on death row in Texas and, particularly, his recent efforts on behalf of Billy Joe Wardlow and Cesar Fierro.
2021 Keynote Speaker
Our 2021 keynote speaker was capital defense attorney and civil rights advocate, Henderson Hill, who shared his thoughts on this moment of reckoning with racial injustice.  Henderson is Senior Counsel with the ACLU's Capital Punishment Project.  He served as founding director of the 8th Amendment Project and launched and continues to serve as co-director of RedressNC, an initiative to unwind extreme sentences through collaboration with community stakeholders.  Henderson is currently representing North Carolina death row prisoners in the Racial Justice Act litigation challenging their death sentences and also served on the legal team for Curtis Flowers, whose conviction was overturned by the U.S. Supreme Court after six trials marked by egregious racial bias in the jury selection process.
---
Comments from participants in past conferences:
"I'm sending this note to thank you and TCADP for the informative conference today. I attended with my father who invited me. I knew very little about this issue before today and found the conference to be enlightening. The panel discussion, keynote and awards, and the workshops were interesting, thought provoking, and informative. The facility was very nice and comfortable, and the food was excellent. It was a well-organized and interesting day, and I appreciate all the work that you and your group did to make this happen." – 2020 Conference Participant
"Incredibly informative, I have never attended a conference and I am so grateful for this experience and efforts to abolish the death penalty." – 2020 Conference Participant
"Last year was awesome; this year was super awesome." – 2020 and 2019 Conference Participant
"This was the first TCADP conference I have attended, and I wasn't sure what to expect. The truth is that I was quite impressed. It was well run, well staffed, and well attended." – 2019 Conference Participant
"Your work to make it so seamless made people connect in amazing ways.   Those connections will last long after this event." – 2019 Conference Participant
---
For information about past TCADP conferences, please visit the archives page.