TCADP is pleased to offer virtual programs as well as in-person events. See below for details on upcoming and past events, as well as events hosted by partner organizations.
Upcoming Events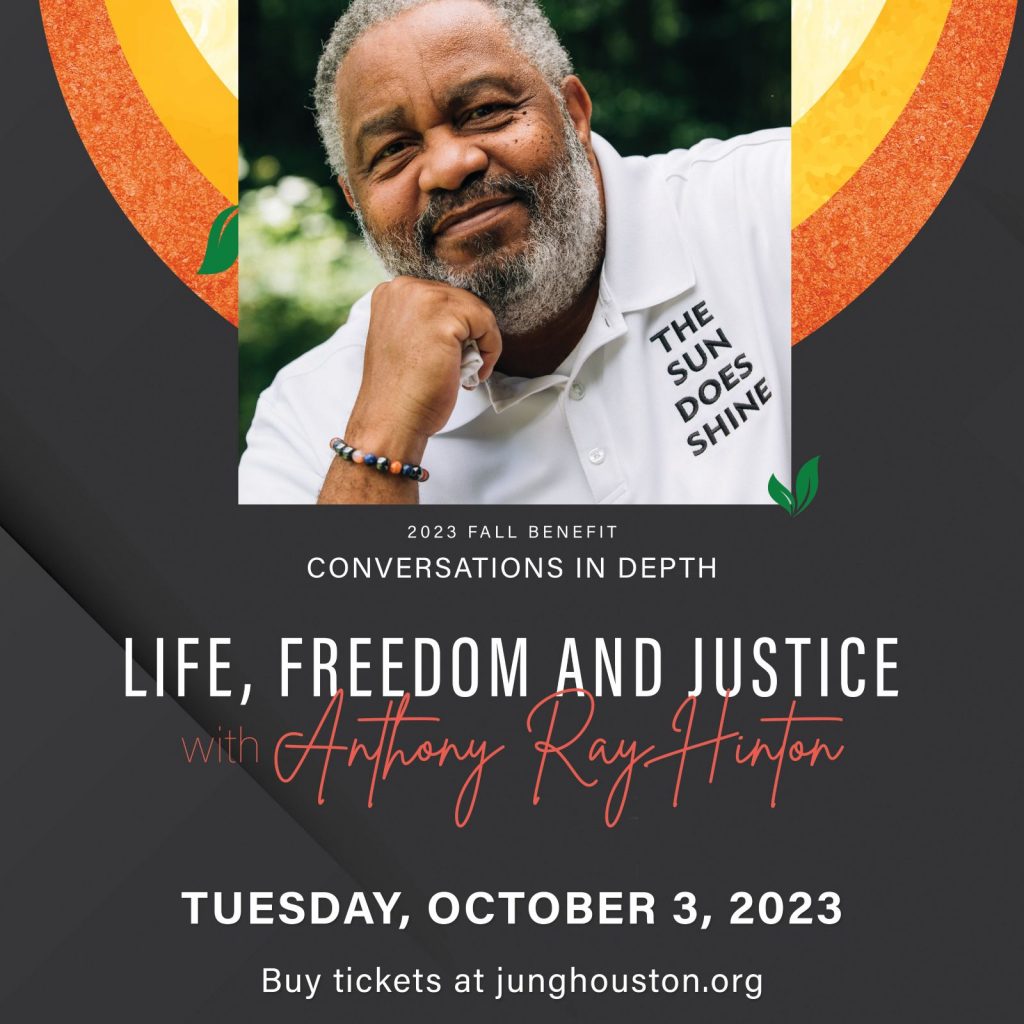 Houston event with Alabama exoneree Anthony Ray Hinton
TCADP is proud to co-sponsor The Sun Does Shine: Anthony Ray Hinton on Life, Freedom, and Justice, an event benefiting The Jung Center in Houston taking place on Tuesday, October 3, 2023. Hinton will share his extraordinary story of faith, compassion, and the fortitude of the human spirit as someone who lived on Alabama's death row for 30 years as an innocent man. Purchase tickets here.
The event will be livestreamed and recorded, with the option of watching online until October 10.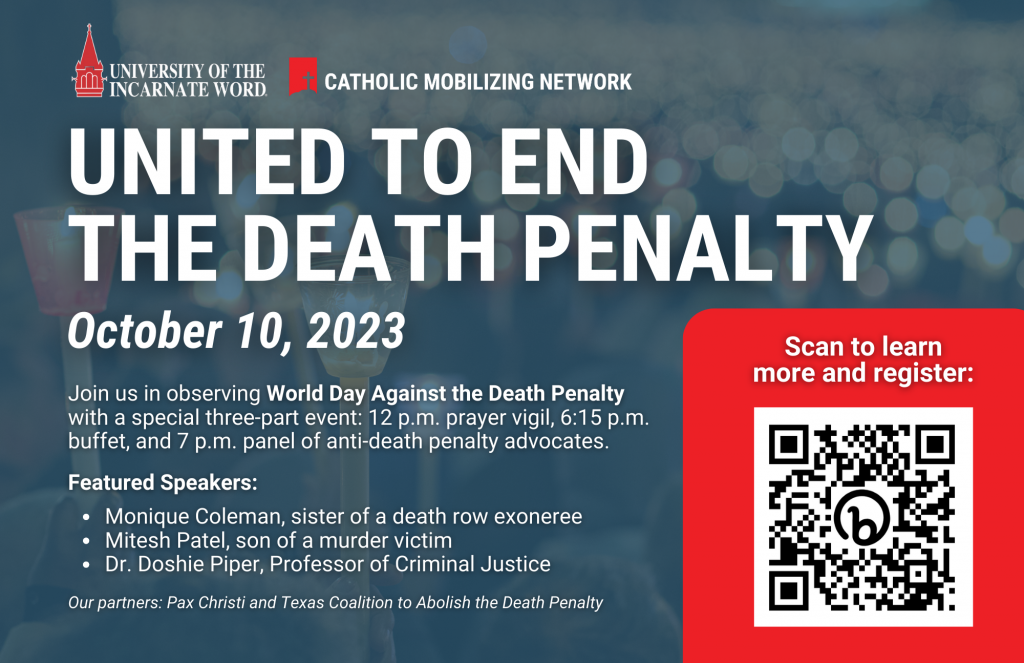 World Day Against the Death Penalty
Since 2003, the global community has recognized October 10 as World Day Against the Death Penalty. This year, to recognize World Day and protest the scheduled execution of Jedidiah Murphy, TCADP is hosting or co-sponsoring solidarity events around the state. Here are details on events taking place around the state:
TCADP and Texas Conservatives Concerned About the Death Penalty will hold a World Day Against the Death Penalty Interfaith Vigil on Tuesday, October 10 from 12:00 to 1:00 PM in front of the Texas State Capitol in Austin (on the sidewalk in front of the gates on 11th St). Faith leaders and anti-death penalty advocates will provide remarks.
In Bryan-College Station, former TCADP Board Member Rich Woodward will host a gathering for other death penalty opponents in the area at his home, which is located just south of the A&M campus, on Tuesday, October 10. The discussion will be being at 7:00 PM. To RSVP and receive the address, email Rich at rtwoodward2@gmail.com.
The Restorative Justice Ministry and El Pasoans Against the Death Penalty will hold an Interfaith Citywide Prayer Vigil on Sunday, October 8, 2023 at 3:00 PM, at Memorial Park in central El Paso. They will pray for the four men scheduled for execution and their families, the victims and their families, and for an end to the death penalty. For more information, contact Pat Delgado at phdelgado3583@gmail.com.
In Dallas, TCADP will host an Interfaith Solidarity Vigil on Tuesday, October 10, 2023 from 6:00 to 7:00 PM at the Frank Crowley County Courthouse (133 N. Riverfront Blvd, Dallas TX 75207). We invite community members, faith leaders, and collective partners to stand in solidarity with those who are facing the death penalty. For more information, contact TCADP Deputy Director Tiara Cooper at TCooper@tcadp.org.
In Fort Worth, TCADP will observe World Day Against the Death Penalty, and hold a vigil for Jedidiah Murphy, in the event his scheduled execution that day moves forward, on Tuesday, October 10th at All Peoples Church, Unitarian Universalist. This interfaith observance will advocate in solidarity for the abolition of the death penalty, raise awareness of the conditions and circumstances that affect prisoners with death sentences, and hold space to gather in lamentation, meditation, and prayer for all those impacted by violence in our culture. Register here.
"United to End the Death Penalty" will take place in San Antonio on the campus of the University of the Incarnate Word, in partnership with the Catholic Mobilizing Network, TCADP, and other local organizations on Tuesday, October 10, 2023. There will be several events throughout the day, culminating that evening in an educational panel featuring two individuals impacted directly by the death penalty. Register for these events, which are open to the public.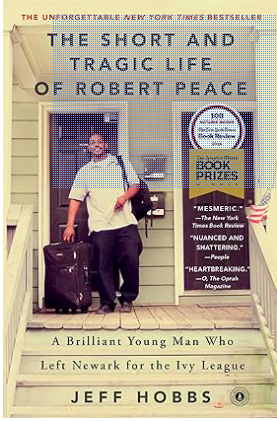 Past Events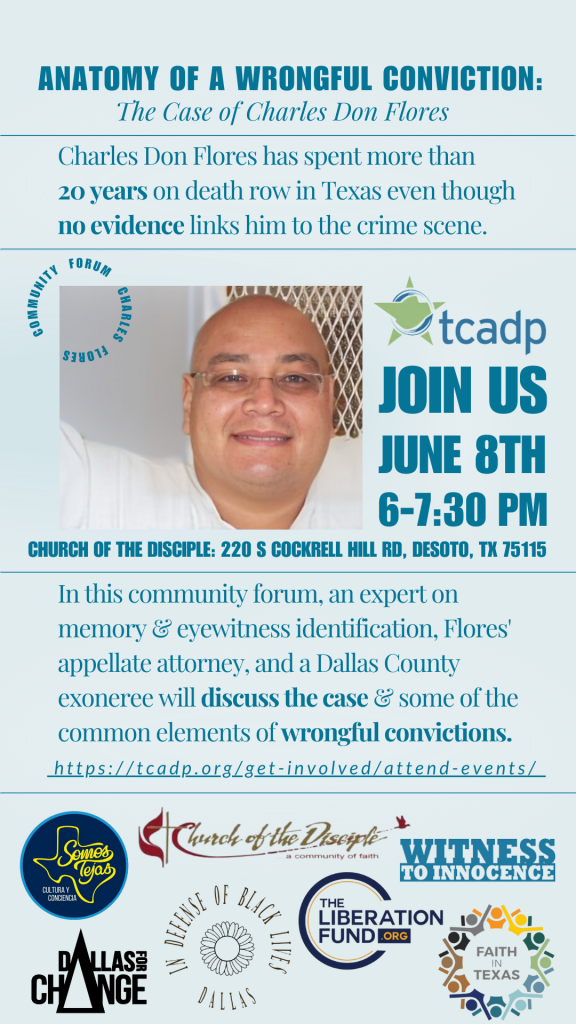 Anatomy of a Wrongful Conviction: The Case of Charles Don Flores
Did you know someone can be convicted and sentenced to death without any evidence linking them to the crime scene? That's what happened to Charles Don Flores, who has spent more than 20 years on death row for a crime he maintains he did not commit.

On June 8, 2023, TCADP, with support from local and national partners, hosted Anatomy of a Wrongful Conviction: The Case of Charles Don Flores in DeSoto, Texas. During the community forum, attendees heard from these speakers:
Christopher Scott, a Dallas County exoneree
Gretchen Sween, Flores's appellate attorney
Dr. John Wixted, an expert on memory and eyewitness identification
You can watch the live stream of the event here: https://www.facebook.com/cdf999299/videos. (This was recorded by a friend of Charles Flores who traveled from Colorado to be there!)
Bilingual panel discussion: "The Years of Fierro"
On May 12, 2021, EPF Media, TCADP, and Witness to Innocence hosted a special panel discussion related to the documentary film, "The Years of Fierro," and the case of César Fierro, who spent four decades on Texas's death row before his sentence was reduced. He was paroled in 2020. Throughout his ordeal, César maintained his innocence of the crime for which he was convicted in El Paso in 1980. The panel was conducted in English and Spanish and featured the filmmaker, Santiago Esteinou, two of César's attorneys, Sandra Babcock and Dick Burr, and César himself. Watch and share the recording.
Past TCADP Book Group Selections