TCADP invites you to attend the following events:
HOUSTON
Join the European Union, the German Consulate General Houston, and TCADP for a special screening of the documentary film, "True Conviction," followed by a panel discussion featuring Dallas County exonerees, Christopher Scott and Steven Phillips. This event will take place at the University of Houston-Downtown (UHD) on Thursday, November 15, 2018 from 7:00 to 9:00 PM in the Wilhelmina Cullen Robertson Auditorium (A350) (One Main Street, Houston, TX 77002).*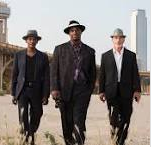 Filmed in Dallas, "True Conviction" explores the investigative and philanthropic work of the unlikeliest of teams: exonerees Christopher Scott, Johnnie Lindsey, and Steven Phillips, who collectively spent more than sixty years in prison for crimes they did not commit. After their exonerations, the three friends formed House of Renewed Hope to help other wrongfully convicted individuals and advocate for criminal justice reforms.
"True Conviction" premiered at the 2017 Tribeca Film Festival and has screened throughout the country. The film follows the detectives as they investigate two cases, including a 35-year-old capital murder conviction in Harris County.  This is the first public screening event in Houston.
*The Auditorium is located on the 3rd floor (Main Street Level) of the Academic Building at UHD.   The Visitor Parking Garage is located at 201 Girard Street.
Questions? Contact Deputy Consul General Michael Ott at 713-627-7770 or info@houston.diplo.de.
SAN ANTONIO
TCADP's San Antonio Chapter meets at 6:30 on the second Wednesday of each month in the Alumni Room at St. Mary's Law School Library.  The next meeting will take place on November 14. Contact coordinator Mardi Baron at sanantonio@tcadp.org for details.
STATEWIDE
The TCADP 2019 Annual Conference will take place on Saturday, February 16, 2019 at St. David's Episcopal Church in downtown, Austin.  Learn more about this exciting, one-day event and register today!