TCADP is pleased to offer virtual events and programs as well as select in-person events. See below for details on upcoming and past events, as well as events hosted by partner organizations.
Upcoming Events
TCADP 2022 Annual Conference
The TCADP 2022 Annual Conference: Transforming Justice in Texas will take place as a virtual event on Saturday, February 26, 2022 from 9:00 AM to 2:00 PM. It will include a panel discussion featuring representatives of states that have abolished the death penalty in recent years, a keynote address by Sister Helen Prejean, breakout sessions, and the presentation of our annual awards. Registration is now open!
TCADP January Book Group
The TCADP Book Group meets every six to eight weeks on Zoom and reads a mix of fiction, non-fiction, and memoirs (see below for a list of everything we've read to date). When possible, we invite the authors to join us. Our next meeting will take place on Wednesday, January 19, 2022 at 7:30 PM Central Time, when we will discuss Reflections on The Guillotine by Albert Camus. Register here!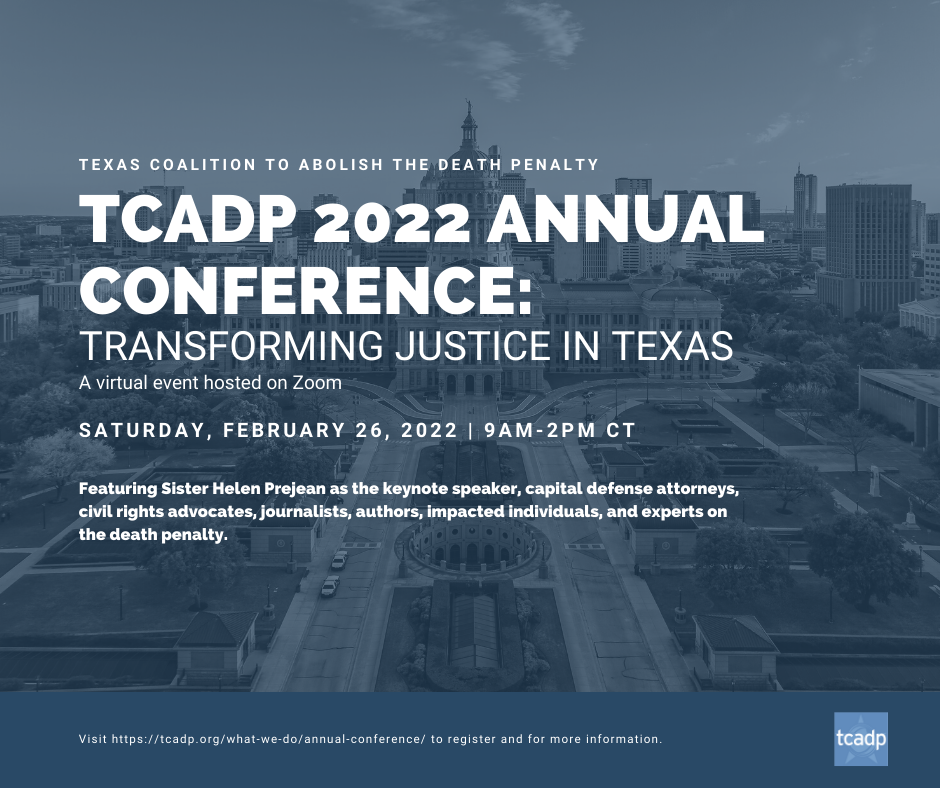 Access to Past Events
Bilingual panel discussion: "The Years of Fierro"
On May 12, 2021, EPF Media, TCADP, and Witness to Innocence hosted a special panel discussion related to the documentary film, "The Years of Fierro," and the case of César Fierro, who spent four decades on Texas's death row before he was paroled one year ago. Throughout his ordeal, César maintained his innocence of the crime for which he was convicted in El Paso in 1980. The panel was conducted in English and Spanish and featured the filmmaker, Santiago Esteinou, two of César's attorneys, Sandra Babcock and Dick Burr, and César himself. Watch and share the recording.
Past TCADP Book Group Selections