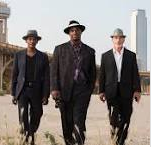 Starting on April 30, 2018, PBS stations nationwide will air the extraordinary documentary film, "True Conviction."  Filmed in Dallas, Texas, "True Conviction" explores the investigative and philanthropic work of the unlikeliest of teams: exonorees Christopher Scott, Johnnie Lindsey, and Steven Phillips, who collectively spent more than sixty years in prison for crimes they did not commit. After their exonerations, the three friends formed House of Renewed Hope to help other wrongfully convicted prisoners and advocate for criminal justice reforms.
TCADP recently honored House of Renewed Hope at our 2018 Annual Conference, where Christopher Scott and Steven Phillips also participated in a panel discussion.
You won't want to miss the premiere of this honest and inspiring documentary! Check your local PBS station for air times, and consider hosting a watch party with friends and family members to encourage even more people to view the film.
You'll find a resource guide for watch parties and individual viewing here.  Sign up below so that we can stay in touch with you about additional opportunities and updates related to "True Conviction."