TCADP's Annual Conference is a one-day event geared towards anyone interested in learning about the death penalty and becoming involved in our efforts.  It features a panel discussion, workshops, a keynote address, and the presentation of our annual awards. The conference provides a unique opportunity to connect with supporters across the state and hear about the progress we are making towards ending the death penalty in Texas.
The conference typically takes place the third Saturday in February.  In odd-numbered years, we hold the conference in Austin.  We rotate the location of the conference among major cities in Texas in even-numbered years.
The 2019 TCADP Annual Conference will take place on Saturday, February 16, 2019 at St. David's Episcopal Church in downtown Austin, Texas.  Online registration is now available; it includes breakfast and the awards luncheon. Tickets for just the keynote address and luncheon are available for those who cannot attend the full day.
Accommodations
TCADP has secured a group rate of $114/night at the Fairfield Inn & Suites Austin-University Area for conference participants. This rate applies to reservations for Friday, February 15 – Sunday, February 17, 2019. Reservations must be guaranteed with a major credit card and will require a one-night, pre-paid room and tax non-refundable deposit.  You can call the hotel directly at 512-302-5550 or toll-free at 1-888-236-2427 (be sure to tell the reservationist you are with TCADP to receive the group rate), or book online using the link below.
Book your group rate for TCADP.
Reservations must be made by January 15, 2019.
Annual Awards
TCADP is now accepting nominations for our annual Courage, Appreciation, and Media Awards. With these awards, we recognize outstanding individuals and organizations that have made significant and selfless contributions towards ending the death penalty in Texas.  Nominations will be accepted until October 26, 2018 and can be submitted by any TCADP supporter.
Keynote Speaker
The TCADP 2019 Annual Conference planning committee is thrilled to announce that Jason Baldwin will keynote the awards luncheon at the conference.
Jason was released from prison on August 19, 2011 after serving more than 18 years in Arkansas for crimes he did not commit. Known collectively as the "West Memphis 3," Jason and co-defendants Jessie Misskelley, Jr.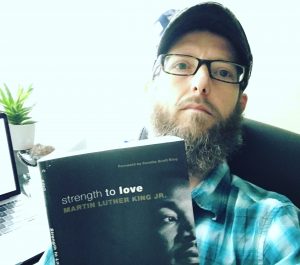 and Damien Echols, were wrongfully convicted for murdering three 8-year old boys in West Memphis, Arkansas. The factors surrounding their wrongful conviction led to a worldwide effort to free the three and expose the injustice of the Arkansas legal system.
While in prison, Jason worked many jobs.  One of his favorites was as law clerk in the Varner Supermax Law Library, where he served general population, administrative segregation and Safe Keeping (Death Row) inmates. Even when he was not assigned to the law library as a clerk he spent most of his free time there. He also volunteered his time in the Jaycees and Inmate Panel, where he helped forge such programs as an inmate-funded scholarship program that benefited the families of inmates and guards with the goal of erasing the hard line drawn between inmate and staff – reminding all of their humanity and each's responsibility to their community. In a world where most prisons are violent places, Jason worked tirelessly to foster a sense of community, self-worth and a belief that compassion is healthier than condemnation any day.
Jason is a co-founder of Proclaim Justice and is currently working as the organization's deputy director. He is currently pursuing undergraduate studies leading to a degree in law.
---
For information about past TCADP conferences, please visit the archives page.