Late last night, starting around 10:50 PM and lasting until after midnight, the Texas House Criminal Jurisprudence Committee considered testimony on House Bill 1703, the death penalty repeal bill by State Representative Jessica Farrar.  Representatives Alma Allen and Lon Burnam co-authored the bill.
Rep. Farrar addressed three major flaws of the death penalty: the risk of wrongful convictions; the cost of maintaining it; and the lack of a deterrent effect.
There was a lively discussion among legislators after the testimony of Anthony Graves, who spent 18 years in prison – including 12 years on death row – for a crime he did not commit.  After being questioned by one legislator about why the death penalty wasn't appropriate for those who are guilty of committing heinous crimes, Anthony responded with his own question: "How do we as human beings decide that we are going to give up on each other?"
The committee also heard from murder victim family members, religious leaders, and organizational representatives, and from Keith Brooks, the son of Charlie Brooks, the first person executed in Texas by lethal injection in 1982).  TCADP Executive Director Kristin Houle testified on behalf of the organization, telling the committee that "the death penalty is no longer the status quo in Texas."
In addition, the committee received written testimony in support of HB 1703 from Sam Millsap, the former District Attorney of Bexar County.
The bill has been left pending in committee.
You can find more quotes from witnesses and legislators' responses on TCADP's Twitter feed, @TCADPdotORG, and on Facebook.  Thanks to TCADP Program Coordinator Vicki McCuistion for capturing the spirit of the hearing!
Read an account of the hearing from the Associated Press, which provides additional insight into the committee members' responses to witness testimony, and from Houston Public Radio.
You can also watch the video here (you will need RealPlayer).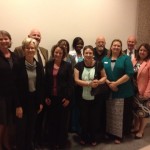 TCADP is deeply grateful to everyone who endured the long wait for the committee hearing to begin and for HB 1703 to be called, particularly all those who testified. A huge shout out also goes to the intrepid members of the TCADP Lobby Corps who attended the hearing and stayed with us until the very end, providing critical moral support.   Thank you!!