Death row survivor Juan Melendez will share his gut-wrenching story of wrongful conviction and ultimate exoneration with audiences throughout El Paso from September 25-27, 2010.   This bilingual tour is sponsored by El Pasoans Against the Death Penalty (EPADP), a chapter of the Texas Coalition to Abolish the Death Penalty.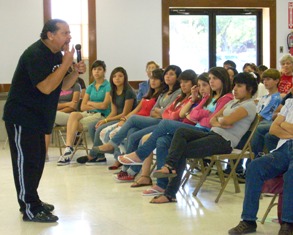 A native of Puerto Rico, Juan spent 17 years, 8 months, and 1 day on Florida's death row for a crime he did not commit.  He was exonerated and released from death row on January 3, 2002 after the discovery of a long-forgotten transcript of a taped confession by the real killer.  No physical evidence ever linked Juan to the crime, and his conviction and death sentence hinged on the testimony of two questionable witnesses (one of those witnesses later recanted and the other is deceased).
Mr. Melendez will be visiting West Texas at a critical time, as concerns about the likely wrongful execution of Cameron Todd Willingham and ongoing exonerations continue to call into question the reliability and fairness of our state's death penalty system. Since 1973, 138 people – including 11 Texans – have been exonerated from death rows nationwide due to evidence of their wrongful conviction.  Mr. Melendez is the 99th person on this list.
EPADP Coordinator Karen Peissinger-Venhaus writes: "We are very excited about Juan Melendez coming to El Paso for the ¡La Pena de Muerte No Mas! speaking tour!  In addition to hearing Juan's compelling talk, attendees will have the opportunity to write a postcard to their Texas representative in support of death penalty repeal, and to register to vote.  Not only is this event a great outreach and education opportunity, it maintains the momentum towards repeal of the death penalty in Texas."
All events are free and open to the public.  See the Tour Schedule and spread the word.
El Pasoans: There's still time to schedule an event with your faith community, class, or civic group! Contact Karen at elpaso@tcadp.org or 915-740-7076.  You can also support the tour with a generous donation to TCADP.