Today's Houston Chronicle includes an editorial on the case of Milton Mathis, who is scheduled to be executed by the State of Texas on June 21, despite overwhelming evidence of his mental retardation ("Let's avoid a travesty: Court must act swiftly before Texas executes a mentally retarded individual," June 9, 2011).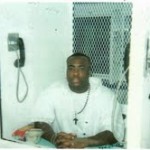 As the Chronicle notes, "because of an unfortunate convergence of Texas procedure and federal judicial error, coupled with a state court that gave short shrift to his mental retardation claims, Mathis is close to losing his life. …", even though the U.S. Supreme Court prohibited the death penalty for persons with mental retardation back in 2002 (Atkins v. Virginia).
Mathis's attorneys have asked the Fifth Circuit Court of Appeals to allow a review of the federal merits of his claim of mental retardation, and to stay the execution to allow considerations to proceed deliberately. They delivered a clemency petition to the office of Governor Rick Perry last week.
Mathis was convicted of the 1998 murders of Travis Brown and Daniel Hibbard in Fort Bend County.  He was 19 years old at the time of the crime.