Statement from Rob Owen in Response to Tuesday's Filing of a Joint Motion to Vacate and Remand in the Texas Court of Criminal Appeals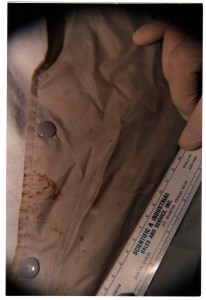 "We are pleased to have reached an agreement that finally secures DNA testing in this case, but there remains reason for grave concern. It appears that no DNA testing will be performed on perhaps the key piece of evidence collected by the police at the crime scene – the sweat-stained, blood-spattered men's windbreaker jacket found next to Twila Busby's body. From the earliest days of his fight for DNA testing, Mr. Skinner has insisted that this jacket should be tested because it may have been worn by the assailant.  Moreover, since trial, a witness has positively identified the jacket from a photograph as one regularly worn by Twila Busby's uncle Robert Donnell who was seen stalking Twila at a party shortly before her death. It is beyond reasonable dispute that DNA testing on this jacket is critically important to the reliable determination of guilt in this case.
"According to the State, every other single piece of evidence in this case has been preserved. It is difficult to understand how the State has managed to maintain custody of items as small as fingernail clippings, while apparently losing something as large as a man's windbreaker jacket.  To date, the State has offered no explanation for its failure to safeguard the evidence in this case.  Nor have State officials explained why, during the many court proceedings in which Mr. Skinner sought access to the evidence for DNA testing, they repeatedly avowed that the evidence Mr. Skinner sought to test existed
and was in a condition to permit such testing.
"The press and the public should demand answers to these questions."
— Robert C. Owen
Visiting Clinical Professor
Bluhm Legal Clinic, Northwestern University Law School
June 12, 2012
Read the Skinner joint motion and exhibit filed 6-12-12_1
More about the story:  http://www.texastribune.org/texas-dept-criminal-justice/court-of-criminal-appeals/both-sides-skinner-case-ask-high-court-dna-test/