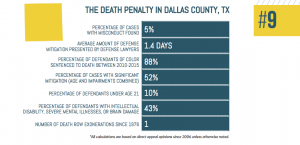 Today, Harvard Law School's Fair Punishment Project released Part II of its report, Too Broken to Fix: An In-depth Look at America's Outlier Death Penalty Counties, which provides an in-depth look at how the death penalty is operating in the handful of counties across the country that are still using it. Of the 3,143 county or county equivalents in the United States, only 16—or one half of one percent—imposed five or more death sentences between 2010 and 2015. The two-part report examined 10 years of court opinions and records from these 16 "outlier counties."  Part II focuses on Dallas County, Texas, Jefferson (AL), Pinellas (FL), Miami-Dade (FL), Hillsborough (FL), Los Angeles (CA), San Bernardino (CA), and Orange (CA). Part I, which was released in August, included Harris County, Texas.  The report analyzes all of the new death sentences handed down in these counties since 2010.
According to the report, these "outlier counties" are plagued by persistent problems of overzealous prosecutors, ineffective defense lawyers, and racial bias. Researchers found that the impact of these systemic problems included the conviction of innocent people, and the excessively harsh punishment of people with significant impairments.
Dallas County juries imposed seven new death sentences, and one resentence, for a total of eight death sentences between 2010 and 2015. Overall, Dallas County juries have sentenced 107 people to death since 1976 (not including resentences), ranking second among Texas counties to Harris County.
The last year in which Dallas County juries imposed a death sentence in a trial involving a new defendant was 2013, however.  Dallas County did not seek or sentence anyone to death during District Attorney Susan Hawk's entire tenure, which began in early 2015 and ended with her resignation in September 2016.
A review of death sentences between 2010 and 2015 revealed that 88 percent of death sentences in this period were imposed on African-American defendants, which is dramatically higher than the percentage of homicide suspects who are African-American . Less than one-quarter of Dallas County's population is African-American. Racial prejudice and biased policies have plagued the Dallas County D.A.'s office for decades.
Dallas County also leads the nation in exonerations.  Since 1989, at least 51 individuals have been exonerated of serious crimes in Dallas County. This includes Randall Dale Adams, who spent 13 years in prison, including several years on death row, for a crime he did not commit.  His case is the subject of the 1988 film, "The Thin Blue Line."
Read the full report here: http://fairpunishment.org/wp-content/uploads/2016/10/FPP-TooBroken_II.pdf.
Part I: http://fairpunishment.org/wp-content/uploads/2016/08/FPP-TooBroken.pdf