Earlier this week, the Kinder Institute for Urban Research at Rice University released the results of its Houston Area Survey for 2020.  Now in its 39th year, the survey measures Houstonians' views on a wide range of issues facing the region, including the death penalty.
The results of the 2020 survey affirm what we've observed for the past decade: Texans are moving away from the death penalty at a remarkable rate. According to the survey, when asked to choose among three alternative forms of punishment for persons convicted of first-degree murder — the death penalty, life imprisonment with no chance for parole, or life imprisonment with a chance, or parole after 25 years — only 20% of Houstonians support the death penalty for such crimes. This compares with 27% in 2016, 37% in 2010, and 41% who supported the death penalty in 2000, when the survey first asked respondents to choose among several options for the punishment for murder.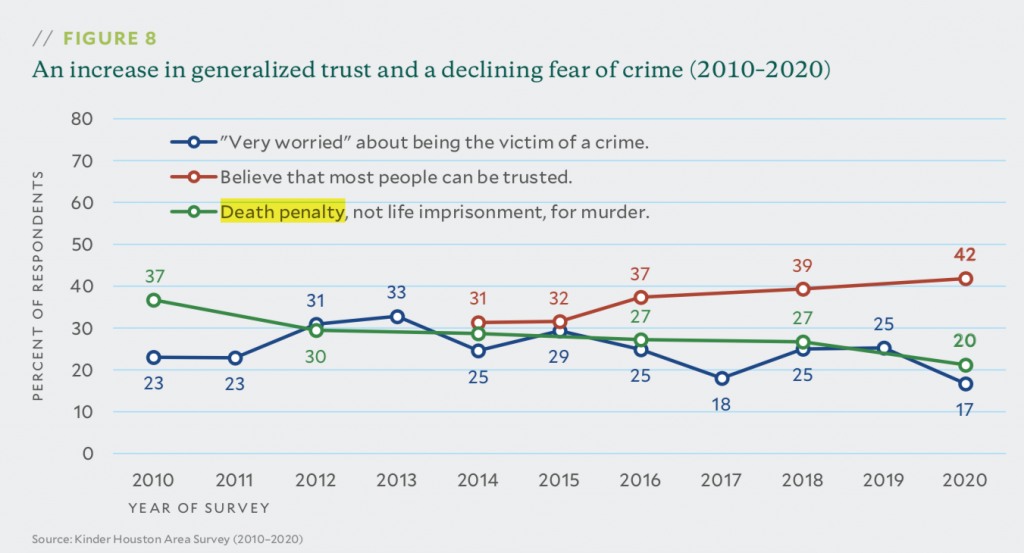 These poll results are particularly revealing about Harris County, which accounts for 129 executions – more than any other state in the country besides Texas. Although Harris County juries have sentenced nearly 300 people to death since the 1970s, the rate of death sentencing there has declined significantly over the last decade. Just two new death sentences have been imposed in Harris County since 2015, mirroring a precipitous drop in use of the death penalty in Texas and nationwide in recent years.
Residents of Harris County clearly recognize there are alternative ways to protect society and punish those who are truly guilty of committing heinous crimes without resorting to capital punishment.
Read the 39th Kinder Houston Area Survey.