In this issue:
Upcoming Events News Calendar
Upcoming Events

March 8 – TCADP Lobby Day – HB 819 On Tuesday, March 8, TCADP members will gather at the State Capitol to lobby on behalf of House Bill 819, which calls for repeal of the Texas death penalty.  State Representatives Jessica Farrar and Marisa Marquez authored the bill; it has been referred to the House Criminal Jurisprudence Committee.   Here's the schedule for Lobby Day:
10:00 -11:30      Preparation / Training in the Extension, Room E2.106
11:30 – 12:30    Lunch at the Capitol Grill (Dutch Treat)
12:30 – 3:30     Visit Your Legislator (TCADP can help set up meetings) and Debrief with TCADP staff   RSVP for the TCADP Lobby Day today!
If you can't join us in Austin, but want to participate in Lobby Day from home, here are actions you can take to support HB 819:
Telephone your State Representative and tell him/her:

you support repeal of the death penalty in Texas, and
you support H.B. 819.

Ask your Representative to support a full committee hearing on H.B. 819.
More information on contacting your lawmakers, including talking points, is available. If you do not know who your State Representative is, you can find out at http://www.capitol.state.tx.us/. You can follow the progress of H.B. 819 at http://www.legis.state.tx.us/BillLookup/History.aspx?LegSess=82R&Bill=HB819.
Now is the time to make your voice heard by your elected Representative. Please participate in Lobby Day in person at the Capitol or from home. Let TCADP know the results of your conversation by using the Legislator Tracking Sheet, now online!
News

TCADP Annual Conference – Seizing the Momentum… Advancing Statewide Vision Through Local Action The 2011 conference was a great success with informative workshops, a great panel discussion, and an inspiring awards ceremony.  TCADP supporters came together from across the state (and ev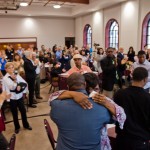 en Canada!) to seek ways to move this issue in their hometowns and thus support TCADP's statewide goal of repeal of the death penalty.
See photos from the conference! Pictured:  Anthony Graves and his Mom after receiving the TCADP Courage award; they truly inspired all of us!   Save the date for the 2012 Annual Conference in San Antonio: February 18, 2012!
Religious Leaders Dialogue on the Death Penalty TCADP cosponsored an unprecedented event in Houston with seven high-level religious leaders and Sister Helen Prejean!  More than 500 people representing diverse faith traditions RSVPd and attended the event.   Videos of the panelists' remarks can be found on the TCADP Religious Outreach page. Thank you, Art Browning, for filming the event!  
Calendar
March
5 Legislative Training hosted by the TCADP Dallas chapter, RSVP
6 Odessa Chapter Meeting, 4:00pm, odessa@tcadp.org

8 TCADP Lobby Day, State Capitol; Austin
12 Film Showing – Incendiary: The Willingham Case, 4:30PM Paramount Theater, 713 Congress
13 Activist Workshop, 1:00 to 4:00pm, at the Quarry's Whole Foods,255 E. Basse Road, San Antonio, 78209, in the Alamo Quarry classroom. RSVP and more info on the San Antonio Training.
14-18 Alternative Spring Break, More Info.
15 Activist Workshop, 4:00 to 7:00p.m. at Terrazas Library Branch, 1105 East César Chávez St., Austin, 78702. For more info and to RSVP for the Austin Training.
16 Dallas Chapter meeting, 7:00pm, dallas@tcadp.org
17 Film Showing – Incendiary: The Willingham Case, 12:00pm – Rollins Theater
19 Film Showing – Incendiary: The Willingham Case, 5:30pm – Rollins Theater
21 El Paso Chapter Meeting,  6:00pm, elpaso@tcadp.org
23-24 Juan Melendez Speaker's Tour in Odessa

If you are on Facebook become a fan of TCADP today!