In This Edition: 
Scheduled Executions
Featured Events
TCADP Newsletter
In the News
Do you shop with Amazon?
Calendar
Executions
The State of Texas is scheduled to put Suzanne Basso to death on February 5, 2014.  She was convicted in 1999 in Harris County of the 1998 murder of Louis "Buddy" Musso, an intellectually disabled man from New Jersey who came to Texas after meeting Basso and her son, J.D. O'Malley.  Five co-defendants, including O'Malley, were convicted of playing a role in the murder.  None of these six individuals have admitted to being the actual killer.
There's still time for you to help stop this execution. If you haven't done so already, please call the Texas Board of Pardons and Paroles and Governor Rick Perry today to urge them to commute the death sentence of Suzanne Basso or at least grant a 90-day reprieve to give her attorney time to pursue her claim of incompetency to be executed and investigate issues related to the inconsistent testimony of the assistant medical examiner.
Talking points, background on the case, and contact information are available from a TCADP alert sent January 24.
TCADP encourages all members to attend a vigil in your community on the day of executions. Information and updates on these cases will be available on our website and through Facebook and Twitter.
Featured Events
TCADP 2014 Annual Conference
Registration for the TCADP 2014 Annual Conference is still open!
A highlight of the day of activities is the assortment of informative and interesting workshops offered in the afternoon.  Time is provided for conference participants to attend two of the following workshops:
-Legislative & Political Advocacy, featuring TCADP Lobby Corps Members Virginia Greenway and Bob Van Steenburg

-The American Bar Association Texas Death Penalty Assessment – led by Paul Coggins, an Assessment Team member and U.S. Attorney for the Northern District of Texas from 1993 to 2001, and Sarah Turberville, former Director of the American Bar Association's Death Penalty Due Process Review Project

-Supporting the Families of Death Row Inmates – featuring Marilyn Shankle-Grant and Larry Brooks of Fort Worth

-Habits of the Heart: Bridging the Divide and Building Common Ground (Two Parts), led by Estrus Tucker, Vice President, TCADP Board of Directors

-Advancing TCADP's Priority Initiatives on the Local Level, led by TCADP Program Coordinator Vicki McCuistion, Pat Delgado, Co-Coordinator of El Pasoans Against the Death Penalty, and Shannon Pivoney, Co-Coordinator of TCADP in Collin County.

-Beyond Contemplation: Faith-Based Direct Action Against the Death Penalty, led by Rev. Jeff Hood, TCADP Board Member, and Emily Jean Hood, Artist and Educator, University of North Texas
Learn more about the conference, including details on our 2014 award winners who will be honored during the Awards Luncheon. Please note that sponsorship opportunities have been extended through Thursday, February 4!  See you in Cowtown!
Texas After Violence Project – Rescheduled Event
The Texas After Violence Project will host a special event, Listening to Families of Executed Texans – a Storytelling Circle in Fort Worth, Saturday, February 8 from 12:00 to 3:00pm in the Energy Auditorium on Tarrant County College's Trinity River (downtown) campus. Come explore the living pasts of the death penalty with families of executed Texans from the Fort Worth area and consider how memory may serve as a resource for restoring and reimagining community and building a more just and less violent Texas.
Featuring:
Derrek and Keith Brooks, sons of Charlie Brooks, Jr. executed on December 7, 1982
Stanley Allridge, brother of Ronald and James Allridge executed on June 8, 1995 and August 26, 2004 respectively
Opening remarks by Bob Ray Sanders, columnist at the Fort Worth Star-Telegram
Circle keeper – Estrus Tucker, TCADP Board Vice-President
Select clips from the Texas After Violence Project oral history archive
Hosted by the Texas After Violence Project with support from the Craig and Kathryn Hall Foundation.  Co-sponsored by the Texas Coalition to Abolish the Death Penalty, Texas Observer, Amnesty International, and Murder Victims' Families for Human Rights.
North Texas Clergy:  Prayer Breakfasts to be hosted in Fort Worth and Dallas
In anticipation of the TCADP 2014 Annual Conference:  "Lighting the Way" and believing in the power of prayerful community, TCADP Board Member Rev. Jeff Hood has organized prayer breakfasts in Dallas and Fort Worth to facilitate fellowship amongst faith leaders concerned about the death penalty, to hear the voices of local leaders of this effort and to offer prayers for abolishment.
The TCADP Dallas Prayer Breakfast will take place at the Cathedral of Hope – 5910 Cedar Springs, Dallas,75235 on February 11 from 9am-10:30am. RSVP Today!
The TCADP Fort Worth Prayer Breakfast will take place at Bread Fellowship – 2902 Race St. # 116, Fort Worth, 76111 on February 12 from 9am-10:30am.  RSVP Today! 
TCADP Newsletter:  Winter 2014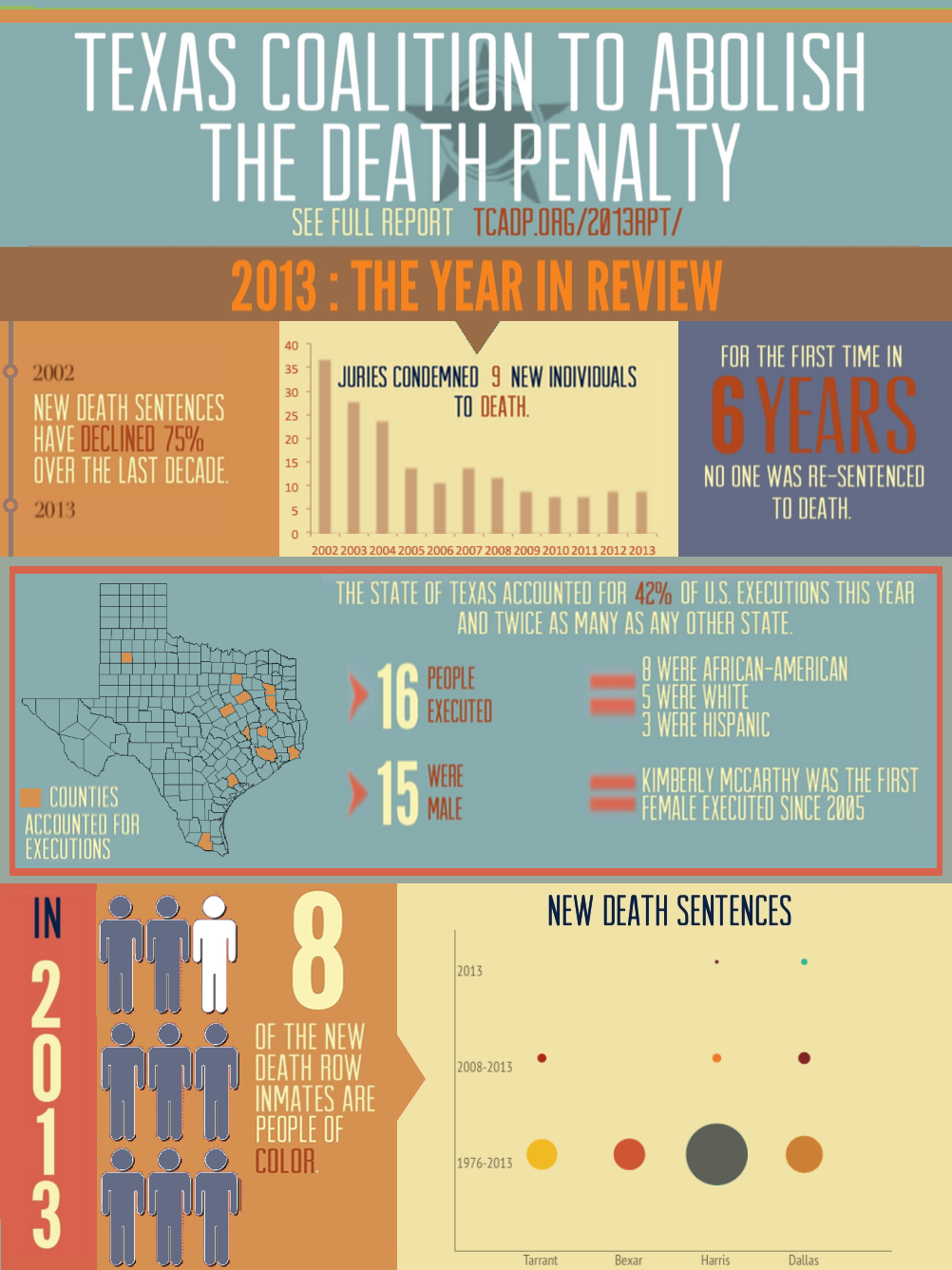 We hope you enjoy this Winter 2014 Issue of Seizing the Momentum!   Please note that while we will continue to provide this newsletter on a quarterly basis, we will print and mail only two issues of "Seizing the Momentum" this year (this winter issue and the fall issue) to current members.  All four issues of the newsletter will be available online. To update your contact information and/or newsletter preferences, please visit our website.
Download – TCADP 2014 Winter Quarterly Newsletter
In this issue:
Cover Story:  TCADP year-end report, Texas Death Penalty Developments in 2013
TCADP 2014 Annual Conference
TCADP 2014 Annual Award Winners
Calendar of Upcoming Events
Thank You, Members, Donors, and Partners for Justice
In the News
Last week, the Texas Observer reported that the American Federation of State, County and Municipal Employees (AFSCME) Local 3807, Texas' largest prison guard union, is calling for a partial end to the controversial use of solitary confinement on death row as a way to improve conditions for both guards and inmates. According to the Observer, "The union's call for change comes as TDCJ [Texas Department of Criminal Justice] is reviewing its death row procedures."  Other groups, including mental health advocates and religious leaders, are submitting input, as well. The full article and a copy of a letter submitted by the union to TDCJ are available here.
Fundraising Opportunity: Amazon.com Supports TCADP!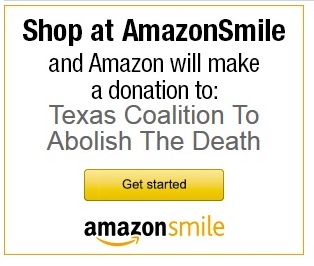 If you enjoy shopping on Amazon, please consider sharing some of your purchase power with TCADP.  Amazon will donate 0.5% of the price of your eligible AmazonSmile purchases to the charitable organization of your choice.
Just click the box and connect your Amazon account with TCADP!
Calendar
February
5: Scheduled Execution of Suzanne Basso
8:  Listening to Families of Executed Texans – a Storytelling Circle in Fort Worth
11: Dallas Prayer Breakfast on the Death Penalty; 9:00 – 10:30 AM; Cathedral of Hope; 5910 Cedar Springs Road, Dallas, Texas  RSVP Today!
12: Fort Worth Prayer Breakfast on the Death Penalty; 9:00 – 10:30 AM; Bread Fellowship; 2902 Race Street #116, Fort Worth, Texas  RSVP Today!
22: TCADP Annual Conference: "Lighting the Way"  University Christian Church, Ft. Worth, Texas