In this edition:
Scheduled executions: One execution scheduled for August in Texas
In case you missed it: Death Penalty Information Center releases mid-year report; U.S. Fifth Circuit rules in favor of Scott Panetti; Ohio resumes executions; "Condemned to Death – And Solitary Confinement"
Featured Event: TCADP San Antonio Chapter meeting
---
Quote of the month
"Faced with crowded prisons and the high financial and social costs of incarceration, many states have been moving away from the strict law-and-order approaches of the past, often emboldened by justice advocates on both the left and right. …
From Texas to Florida to Illinois, many of these young prosecutors are eschewing the death penalty, talking rehabilitation as much as punishment, and often refusing to charge people for minor offenses."
Christian Science Monitor, "Meet a new breed of prosecutor," July 15, 2017
---
Scheduled executions
The State of Texas is scheduled to execute one individual this month:
On August 30, Steven Long is scheduled to be put to death for the assault and murder of 11-year-old Kaitlyn Briana Smith in May 2005 in Dallas County. If it proceeds, Long's execution would be the second out of Dallas County this year. Dallas County accounts for 56 executions since 1982.
Texas accounts for 5 out of the 16 executions nationwide thus far in 2017. At this time, there are four additional executions scheduled in Texas through October.
Attend a vigil in your community on the day of executions. Information and updates on cases are available on our website and through Facebook and Twitter.
---
In case you missed it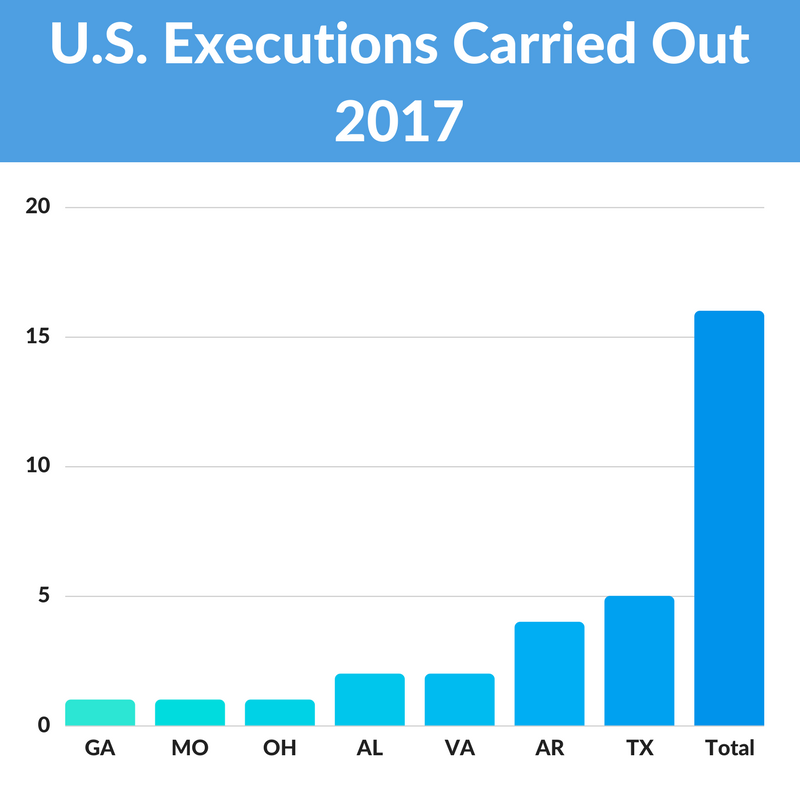 Death Penalty Information Center releases mid-year report
Recently, the Death Penalty Information Center released an informal mid-year report for 2017. Both executions and death sentences remain at historic lows, indicating the continuation of a promising trend. In the first half of 2017, the U.S. Supreme Court issued three significant decisions siding with individuals on death row. This includes favorable decisions in two Texas cases, Buck v. Davis and Moore v. Texas. Thus far, three people have been exonerated from death row in three different states (Delaware, Florida, and Louisiana).

U.S. Fifth Circuit rules in favor of Scott Panetti
On July 11, 2017, the U.S. Court of Appeals for the Fifth Circuit returned Scott Panetti's case to the federal district court with orders to appoint counsel, authorize funds for investigative and expert assistance, and allow adequate time to prepare a habeas corpus petition raising the claim that Panetti is currently incompetent to be executed. As the opinion stated, "Delivery of the process due protects the prisoner and in doing so protects us all." Panetti has been on Texas' death row since 1995 and faced several execution dates despite his long-documented history of severe mental illness. He was allowed to represent himself at his trial. The Fifth Circuit stayed Panetti's execution on December 3, 2014 to review the issues surrounding his competency.
Ohio resumes executions  
On July 26, 2017, the State of Ohio executed Ronald Phillips, marking the state's first execution in more than three years. Ohio's executions had been on hold since 2014, due to complications with the use of midazolam. To date, Ohio has executed 54 individuals.
Thanks to everyone who signed the petition and/or faith leader letter of support protesting this resumption of executions.
"Condemned to Death – And Solitary Confinement"
More and more states are moving away from solitary confinement on death row. According to the Marshall Project's recent article, Arizona will allow eligible individuals on death row "more out-of-cell time, visits in the same room with family and friends, outdoor group recreation and better job opportunities." Of the 2,802 individuals held in state prisons, 61 percent spend 20 hours a day or more in solitary confinement. Texas continues to condemn individuals on death row to 23 hours a day of solitary confinement.
---
Featured event
On August 9, TCADP's San Antonio Chapter will host a member meeting at the Law Alumni Room in the Sarita Kenedy East Law Library (1 Camino Santa Maria St.) at St. Mary's Law School. The meeting will begin at 6:30 PM. For more information, please contact Chris Hockman at sanantonio@tcadp.org.