In This Edition:  Scheduled Executions Recent News  – Including the TCADP Fall Newsletter! Upcoming Events Take Action Today! – Complete a Member Survey! Calendar

November 8: Mario Swain

November 14: Ramon Hernandez

November 15: Preston Hughes

Thank you, Fort Worth!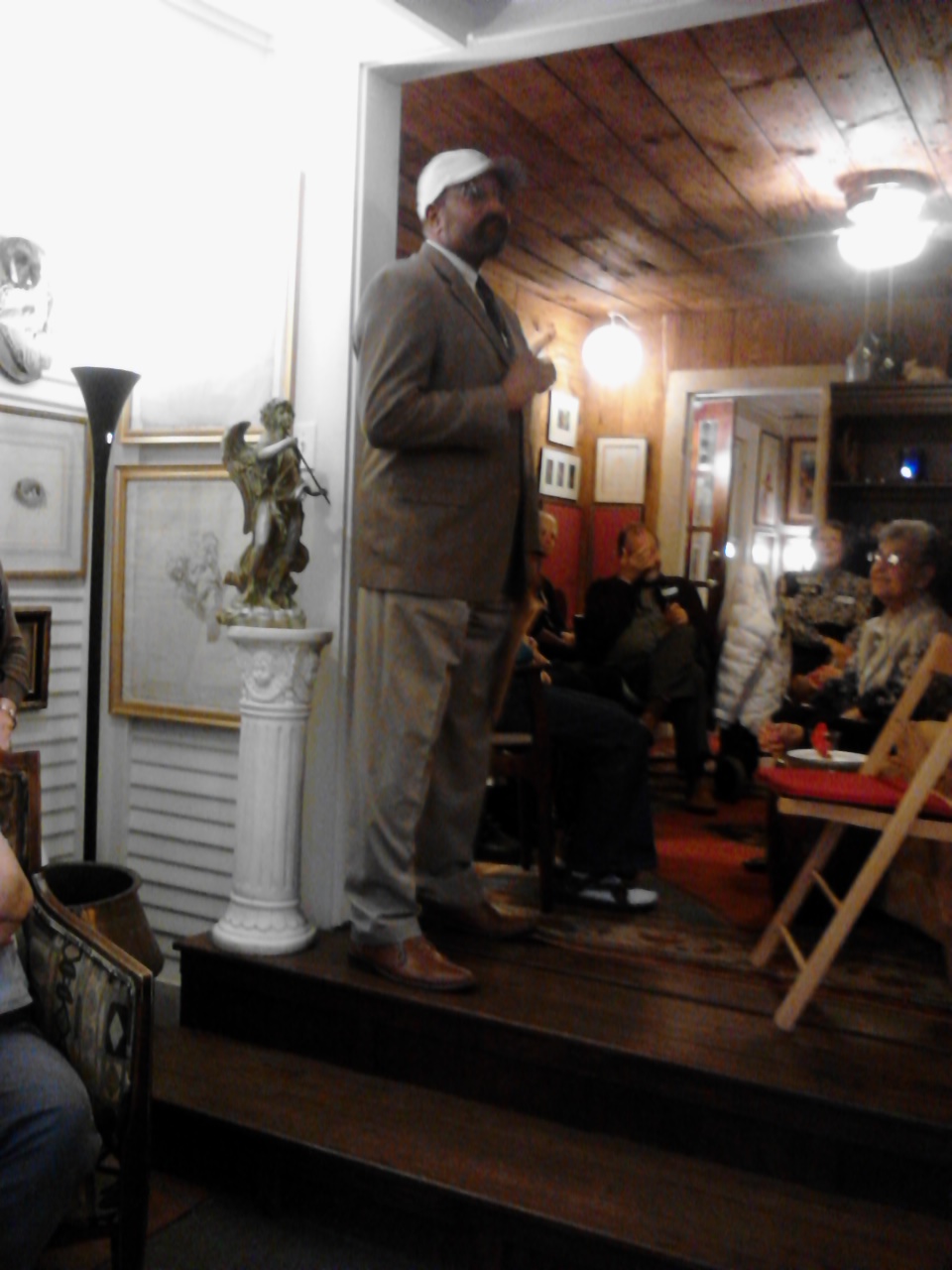 TCADP would like to thank everyone who attended our October 25 gathering in Fort Worth. We are immensely grateful to Gayland Pool and Katie Sherrod for opening their beautiful home and garden to us, and to State Representative Lon Burnam, Philip Haigh, Estrus Tucker, and Rev. Bernard Kern for all their hard work on the event. It was a wonderful evening of fellowship, which also raised critical funds for TCADP! (Pictured: TCADP Board Member Estrus Tucker speaking.)
Watch Video Clips from Austin TCADP Event Featuring Sister Helen Prejean
Willingham Family, Innocence Project Seek Posthumous Pardon
On October 24, 2012, the family of Cameron Todd Willingham and their attorneys announced at the Texas State Capitol that they had filed a petition for a posthumous pardon with the Texas Board of Pardon and Paroles, seeking to clear his name once and for all. Willingham was executed by the State of Texas in 2004 for setting a fire that killed his three young daughters in Corsicana in 1991. At least nine fire experts have since determined that the finding of arson was based on faulty evidence and flawed science. Read more from the
New York Times
and the
Austin American-Statesman
.
U.S. Supreme Court Will Consider Case from Texas
On October 29, 2012, the U.S. Supreme Court announced that it will hear arguments in the case of Texas death row inmate Carlos Trevino in order to determine whether a defendant in Texas has the right to a competent attorney during habeas appeals. The question in the Trevino case is whether the Court's decision in an earlier case from Arizona applies in Texas. The Court has applied the decision inconsistently, stopping some executions on this basis while allowing others to proceed. 
Read more from the Texas Tribune
.
Download and read the newsletter today!
In this issue:
Sister Helen Prejean Speaks to Full House in Austin
Voices of Texas: Joe Walker
Death Penalty Developments / News from the Field
Save the Date for the 2013 Annual Conference!
Thank You Members, Donors, and Partners for Justice
GRACE Celebrates 10 Years
In celebration of its 10
th
anniversary, the Gulf Region Advocacy Center (GRACE), a non-profit law firm based in Houston, is hosting a series of events from November 15-17. These include a Writers Panel Discussion featuring Sister Helen Prejean, a film screening of "Paradise Lost 3: Purgatory" (about the West Memphis 3) with special guest Jason Baldwin, and a Gala and Silent Auction featuring keynote speaker Mike Farrell and a live performance by Steve Earle. More information about all of these events is available at
http://www.gracelaw.org/
.
"Execution" Film Showing in Austin for One Night Only
In 1995 two filmmakers hid surveillance cameras in the death chamber and recorded a man's execution. The footage was confiscated and hidden from the public . . . Until now.
This new film, entitled "Execution", will be playing for one night only in eight select cities across the country. A screening will take place in Austin at Regal Metropolitan at 7:30 pm on November 18. In the film, former death row inmate, Billy Neal Moore (GA), and former death row warden, Don Cabana (MS), play versions of themselves. Both Moore and Cabana will be on hand along with the filmmaker to participate in a discussion with the audience afterwards. This event is sponsored by Amnesty International and Regal Cinemas. More information is available at
http://www.executionfilm.com/index.php
.
Help TCADP by Completing a Member Survey Today!
Thank you so much for completing this survey for TCADP.  This information, which will be kept confidential, will help us better respond to the needs of our supporters and also utilize your gifts to further our mission of ending the death penalty. The survey is online at 
www.tcadp.org/member-survey/
. It should take less than 10 minutes to complete.

November 6, 2012 Election Day
TCADP is a 501(c)3 organization and cannot endorse candidates. However, we do encourage you to practice your civic responsibility and vote. Please be sure to research candidates in local, state, and national races and their positions on criminal justice issues. State district judges, district attorneys, and judges on the Texas Court of Criminal Appeals all play a major role in the Texas death penalty system. Happy voting!
Who Do You Know in California
?
On Election day, voters in California will have an opportunity to replace the death penalty in their state! 
Proposition 34, the SAFE California Act
("Savings, Accountability, Full Enforcement"), will replace California's death penalty with a sentence of life in prison with no chance of parole as the maximum punishment for murder. Please tell everyone you know about Proposition 34 and encourage them to vote yes! More information is available at
http://www.safecalifornia.org/
.
Are you a current member of TCADP?
If you recently received a
2012 membership renewal notice
from TCADP in the mail, 
please take a moment to
renew today
! Your membership provides you a discounted entrance to the annual conference (coming up in February) and special communications.  Now more than ever your membership means a lot to TCADP.  Consider becoming a Partner for Justice
by providing a recurring monthly or quarterly donation
.  Thank you for 
supporting TCADP
!
Calendar
November
6 Election Day
8 Scheduled Execution: Mario Swain
14 Scheduled Execution: Ramon Hernandez
15 Scheduled Execution: Preston Hughes
18 Anthony Graves -Wesley UMC Austin 10:00am; "Execution" Film, Regal Metropolitan—Austin 7:30pm
19 El Paso Chapter Meeting, 7:00pm,
elpaso@tcadp.org
Fr. Dennis O'Mara will speak
21Dallas Religious Organizing committee 6:00pm, Chapter meeting 7:00pm,
dallas@tcadp.org
30 Pax Christi Austin – Observance of "Cities for Life," an initiative of the Community of Sant'Egidio, Vigil on the steps of St. Mary's Cathedral at 7:00pm.

December
1 Death Row Holiday Card Write-a-thon, Dallas, 11:00-4:00, dallas@tcadp.org
19 Dallas Religious Organizing committee 6:00pm, Chapter meeting 7:00pm, dallas@tcadp.org
For more information about these events or to volunteer to staff a table at an outreach event, email
info@tcadp.org
.
Support all of the programs and initiatives described here with a generous donation to TCADP today!