Support TCADP Through Amazon Smile – If you find yourself shopping for graduation or Mother's Day gifts on Amazon this month, consider setting up a profile by clicking the image above and designating TCADP as your charity of choice. Thank you for your support!
In This Edition:

Scheduled Executions
Death Penalty Developments
TCADP Spring Newsletter
Featured Events
Calendar and Volunteer Opportunities
Executions
The State of Texas is scheduled to execute Robert Campbell on May 13, 2014. He was convicted of the kidnapping and murder of Alexandra Rendon in Houston in 1991. Campbell was just three months past his 18th birthday at the time of the crime; he has spent more than half his life on death row. Co-defendant Leroy Lewis, who also was 18 at the time, pled guilty and was sentenced to 35 years in prison. Read more about the case and take action through Amnesty International.
TCADP stands with our colleagues in Oklahoma in calling for an independent and thorough investigation into the horrifically botched execution of Clayton Lockett on April 29, 2014. No more executions should take place in Oklahoma, Texas, or anywhere else in this country until basic questions about lethal injection are answered. Read more, including a statement from former Texas Governor Mark White.  Twitter users:  please use #DemandFullInquiryOK in your tweets about the Oklahoma execution.
TCADP encourages all members to attend a vigil in your community on the day of Texas executions. Information and updates on these cases will be available on our website and through Facebook and Twitter.
Recent Death Penalty Developments
New study: One out of 25 death sentences imposed on an innocent person
New research published in the prestigious Proceedings of the National Academy of Sciences suggests that over four percent of all those sentenced to death in the United States from 1973 through 2004 were innocent. The percentage of innocent people sentenced to death (4.1%) is more than double the percentage of those actually exonerated and freed from death row during the study period (1.6%). Read more.
Former Supreme Court Justice calls for Constitutional amendment to ban the death penalty
Retired Supreme Court Justice John Paul Stevens, who just turned 94 years old, has published a new book, Six Amendments: How and Why We Should Change the Constitution. Among other proposals, Stevens calls for changing the Eighth Amendment's prohibition against "cruel and unusual punishments" by specifically including the death penalty. Read more from USA Today and the Austin American Statesman.
Strong Majority of Houstonians Support Alternatives to the Death Penalty

According to the 33rd Kinder Institute Houston Area Survey, 69 percent of Houstonians support alternatives to the death penalty for people convicted of first-degree murder. The survey finds "a gradual and continuing drop in support for the death penalty across the years." You can find previous polling results on the death penalty here.
Texas Observer article explores decision-making process of a small-town prosecutor
In "To Kill? Or Not to Kill?" reporter Maurice Chammah explores a District Attorney's decision whether or not to pursue the death penalty in a capital murder case.  Set within the context of declining death sentences, the article probes the pressures and soul-searching that small-town prosecutors often confront in making life and death decisions. Read it now.
TCADP Spring Newsletter
We hope you enjoy this Spring 2014 Issue of Seizing the Momentum, released April 24! Please note that while we will continue to provide this newsletter to members on a quarterly basis, we will print and mail only two issues of "Seizing the Momentum" this year (the winter and fall issues.) All four issues of the newsletter will be available online.  If you have any questions regarding these changes, please contact Kristin Houlé at khoule@tcadp.org.  To update your contact information and/or newsletter preferences, please visit our website.
Download – TCADP 2014 Spring Quarterly Newsletter
In this issue:
Cover Story:  TCADP's Stategic Plan prioritizes 5 areas of importance for furthering our goals of first decreasing and then ending the use of the death penalty.
Voices of Texas: On page 4, our colleagues at Murder Victims' Families for Reconciliation share with us the best ways to respond to those we know touched by violence.
Death Penalty Developments:  TCADP works to stay apprised of new death sentences, stays of executions and emerging trends in Texas' response to capital punishment, found on page 5.
Can Social Media Increase Anti-Death Penalty Engagement?  Find the answer on page 6 and learn several specific ways to increase your impact and further our efforts.
Thank You, Members, Donors, and Partners for Justice:  Thank you to everyone who supported TCADP during Amplify Austin in March!  TCADP repeated its win of an extra $1000 for most donors during 1:00-2:00pm of the campaign. Celebrate your fellow TCADP members by seeing who gave this quarter.
Featured Events
Carrollton: Witness to Death: A Hearing of Kathy Cox and a Training from Center for Theological Activism to occur May 6 at Holy Covenant UMC at 7:00pm.  Kathy Cox is 90 years old, has witnessed over 60 executions and currently ministers to 40 persons on Texas' Death Row. For over 65 years, Cox has worked for social change from within her denominational home of the Salvation Army. We will gather to hear Cox's story, to learn to share our own stories and be activated in the fight to abolish the death penalty. Learn more.
This event is sponsored by Holy Covenant United Methodist Church, Center for Theological Activism and Texas Coalition to Abolish the Death Penalty – TCADP.
Dallas: Join TCADP as we launch a new bi-monthly lunch series in Dallas! The first luncheon will take place on Monday, May 19th from 12:00 to 1:00 PM at the Trinity Center, 1444 Oaklawn Ave., Dallas, 75207. Lunch will be catered at a cost of $10 per person to be paid by cash or check at the venue. Please RSVP to reserve your seat!
Houston: The "Fair & Just" Lunch Series returns to Houston on Tuesday, May 27, 2014. Susan Truscott, Vice Consul for the British Consulate-General Houston, will share the history of her government's opposition to the death penalty and her work at the consulate.  Join us from 12:30 to 1:30 at St. Anne's Catholic Church. Place your order for a box lunch or bring your own. RSVP and reserve your lunch now!
Austin: Please join TCADP Austin for the bi-monthly lunch discussion to be held Wednesday, May 28 12:00-1:00pm in the fellowship hall of Servant Church/Asbury UMC at 1605 E. 38 1/2 St..  Parking is available on Cherrywood, 38 1/2 and in a lot (access from 38 1/2) in the back of the church.  The Fellowship hall is accessible from Cherrywood. Place your order for a box lunch or bring your own. RSVP and reserve your lunch now!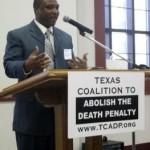 Corpus Christi:  Anthony Graves will speak at a Social Justice Luncheon Friday, June 13. The Methodist Federation for Social Action, SWTX Chapter and the Conference Board of Church and Society of Rio Texas United Methodist Church will host Anthony Graves to speak about "Life After Death Row" during the "Peace and Justice Luncheon."  The luncheon is being held at the American Bank Convention Center, Henry Garrett Pre-Function area in Corpus Christi during the United Methodist Annual Conference, but all are welcome. Specific action opportunities will be provided for people of faith. Please note:  Pre-Registration required.  Registration form to share or print and mail with payment.   Online Registration.
Calendar and Volunteer Opportunities

May
6 "Witness to Death: A Hearing of Kathy Cox", 7:00-9:00pm, Holy Covenant UMC, Carrollton More Info.
13 Scheduled Execution: Robert Campbell
14 TCADP table at Restorative Justice Conference, College of Biblical Studies, Houston*
19 TCADP Lunch discussion, 12:00 to 1:00pm, Trinity Trust Foundation, 1444 Oaklawn Avenue, Dallas RSVP for lunch.
25-27 TCADP info at Texas Annual Conference UMC, Houston*
27 TCADP "Fair and Just" Lunch series, St. Anne's Catholic Church, Houston, 12:30pm RSVP and Purchase lunch
27 El Paso Chapter Meeting; Juan Diego Room in the Ministry Center of St Pius X Catholic Church, 1050 N Clark St, 7:00pm; elpaso@tcadp.org
28 TCADP Austin Lunch discussion 12:00pm, Servant Church RSVP and Purchase Lunch
31 TCADP Board Meeting, Austin
June
1-3 TCADP info at North Texas Annual Conference UMC, Richardson
13 Anthony Graves to speak at Rio Texas Annual Conference UMC Social Justice Luncheon, Corpus Christi, Noon.* Online Registration
19-22 TCADP booth at Texas Black Expo, Houston*
27-28 TCADP booth at Texas Democratic Party Convention, Dallas*
TCADP encourages all members to attend a vigil in your community on the day of executions.
*For more information about these events or to volunteer to staff a table at an outreach event, email info@tcadp.org.
Support all of the programs and initiatives described here with a generous donation to TCADP today!